Storm Forecast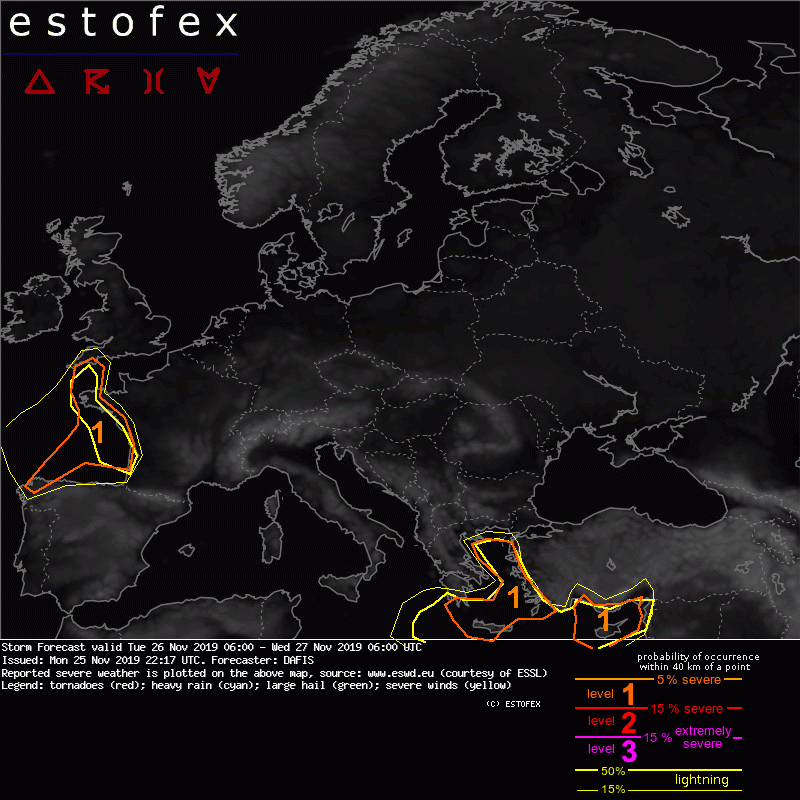 Storm Forecast
Valid: Tue 26 Nov 2019 06:00 to Wed 27 Nov 2019 06:00 UTC
Issued: Mon 25 Nov 2019 22:17
Forecaster: DAFIS
A level 1 was issued for Greece and W Turkey mainly for excessive convective precipitation and severe wind gusts.

A level 1 was issued for S Turkey and Cyprus for excessive convective precipitation, large hail, severe wind gusts and tornadoes.

A level 1 was issued for the coasts of SW UK, W France, and NW Spain mainly for severe convective wind gusts.

SYNOPSIS

A cut-off low over Central Mediterranean destabilizes the area, resulting in torrential rainfall in Greece and Turkey on Monday 25/11. At the surface, a cyclone in the Ionian Sea is gradually moving S-SE and deep convection is redistributing PV in the mid-troposphere, reducing the upper-level anomaly. Some NWP models suggest the development of a shallow warm-core system on Tuesday 26/11 in the Ionian Sea, but the environment is rather dry and the increasing DLS in the afternoon may result in cyclone ventilation and asymmetrical convection. Nevertheless, the southwesterly flow from the Gulf of Sirte will bring warm and moist air masses towards Greece and Turkey. Much more unstable air-masses can be found in the eastern Mediterranean and thermodynamics suggest that severe weather is expected. In western Europe, a deep cyclone is approaching from the Atlantic, bringing mostly non-convective torrential rainfall and gale-force winds.


DISCUSSION

.... Greece and W Turkey ....

The southwesterly flow will continue to bring unstable air masses from Central Mediterranean, but convection is limited and mostly pronounced over the sea. Several convergence zones close to the coasts of Greece and Turkey will provide lift to these masses and persistent rainfall may lead to flash floods. A few waterspouts may also develop close to the coasts.

.... S Turkey and Cyprus ....

A southwesterly flow is also established in this area and air-masses with high theta-e values are moving towards the coasts of Turkey and Cyprus. A few storms may become supercells as an overlap of CAPE and DLS with low/mid-level helicity is forecast. These storms will be able to produce large hail, severe wind gusts, and excessive precipitation. One or two tornadoes can also not be ruled out given the veering forecast hodographs.

.... SW UK, W France, and NW Spain ....

A deep cyclone is approaching western Europe from the Atlantic. In the warm sector of this cyclone, embedded convection may produce severe wind gusts on the coasts. The 850 hPa flow with wind speeds in the range of 25-30 m/s may also result in comparable speeds at the surface.