Storm Forecast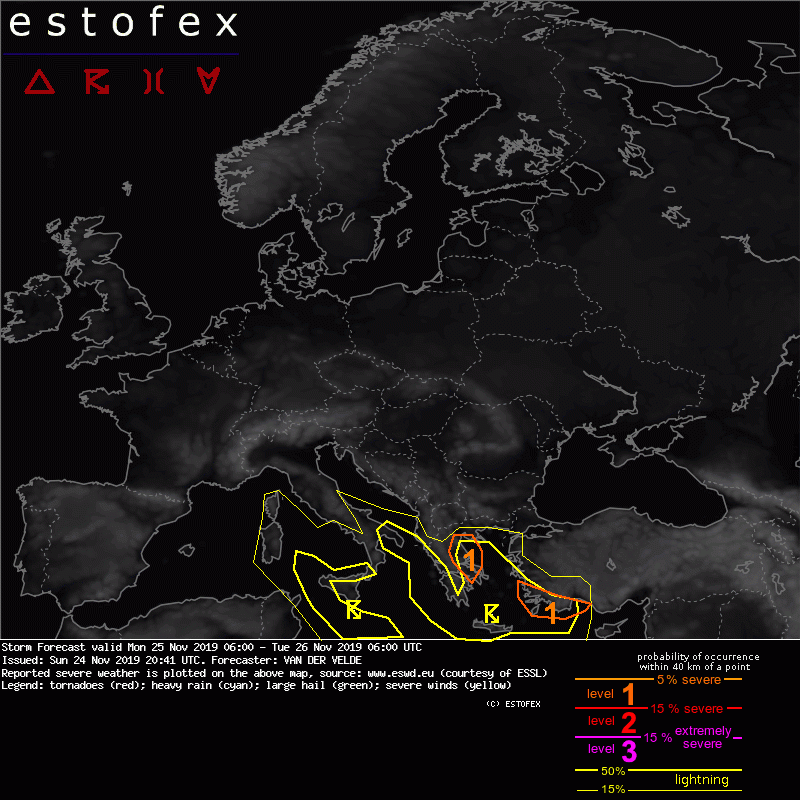 Storm Forecast
Valid: Mon 25 Nov 2019 06:00 to Tue 26 Nov 2019 06:00 UTC
Issued: Sun 24 Nov 2019 20:41
Forecaster: VAN DER VELDE
A level 1 was issued across the east coast of Greece mainly for chances of excessive rainfall.

A level 1 was issued across the southwest coast of Turkey mainly for severe convective wind gusts and excessive rainfall.

SYNOPSIS / DISCUSSION

A Mediterranean low dwells between Italy and Greece, advecting cold mid-level air over the warm sea water. This results in some instability with scattered thunderstorms around southern Italy, Malta and southern Balkan. A plume of warmer airmass is advected northward with converging winds across the Aegean Sea, with higher moisture content and onshore upslope winds. This is associated with several hundred J/kg CAPE and moves slowly eastward. This line should produce thunderstorms that can linger and locally leave large rainfall sums. An isolated tornado is also possible as shear is enhanced over east-central Greece. Over SW Turkey, the convection is helped by the presence of the jet stream, creating stronger flow (25 m/s 1-3 km mean winds) and vertical shear, which likely proceed to generate severe convective wind gusts and perhaps a tornado.