Storm Forecast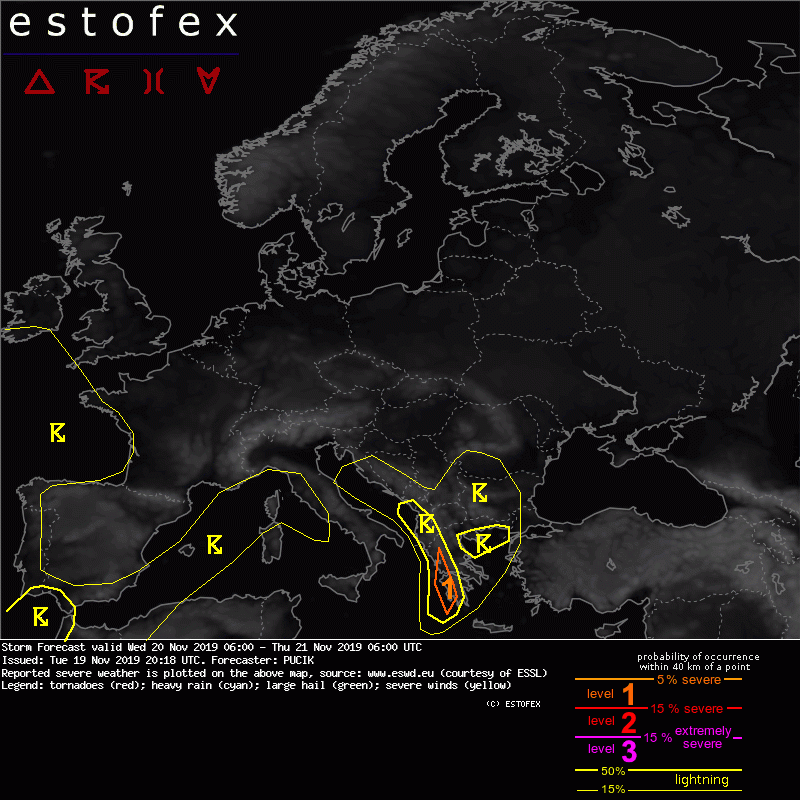 Storm Forecast
Valid: Wed 20 Nov 2019 06:00 to Thu 21 Nov 2019 06:00 UTC
Issued: Tue 19 Nov 2019 20:18
Forecaster: PUCIK
A level 1 was issued for western coastline of Greece mainly for excessive precipitation and to the lesser extent for tornadoes.

SYNOPSIS and DISCUSSION

A complex synoptic-scale setup is forecast over Europe during the forecast period with numerous short-wave troughs embedded in southwesterly to southerly flow ahead of a main cyclonic vortex centered over the Atlantic. The first short-wave will cross Iberia and lift towards France, the second will move from the southern Adriatic Sea to Hungary and the third one will translate from northern Germany to Denmark.

In the morning hours, scattered to widespread storms are forecast over the eastern Ionian / southern Adriatic Sea, but the coverage will decrease rapidly as the short-wave moves towards northeast. However, a Level 1 was maintained for the period of 06 - 09 UTC, when organised storms may pose threat of heavy rainfall and a tornado or two along the coastlines. Tornado threat is considered due to the simulated low LCLs and curved hodographs. Further east, threat over the Aegean Sea will be limited by the lack of the synoptic-scale support.

Scattered thunderstorms are also forecast along the cold front crossing southern Iberia and isolated storms are expected, due to the steep mid-tropospheric lapse rates, all the way towards Ireland. However, these storms should pose only very marginal risk of severe weather.