Storm Forecast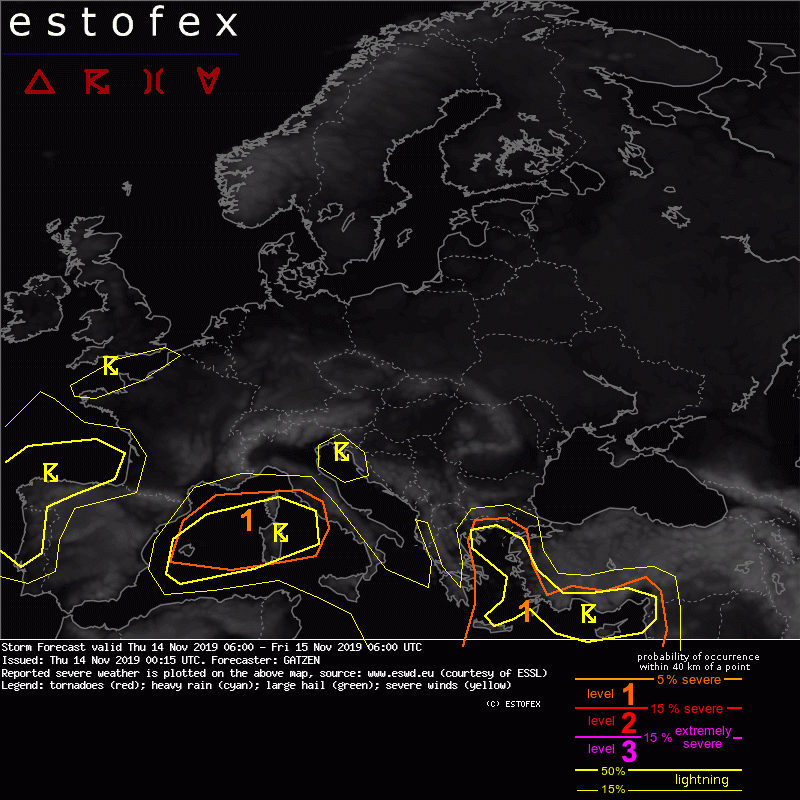 Storm Forecast
Valid: Thu 14 Nov 2019 06:00 to Fri 15 Nov 2019 06:00 UTC
Issued: Thu 14 Nov 2019 00:15
Forecaster: GATZEN
A level 1 was issued across Cyprus and the east Mediterranean mainly for large hail, severe wind gusts, and excessive precipitation.

A level 1 was issued across the Aegean Sea and surroundings mainly for excessive precipitation and waterspouts.

A level 1 was issued across the Tyrrhenian Sea, Corsica, and Sardinia, mainly for severe wind gusts, tornadoes, and excessive precipitation.

SYNOPSIS

An intense digging trough is located across western Europe, yielding a strong south-westerly jet streak across the west and north Mediterranean. Downstream, a short-wave trough lifts towards the Aegean Sea. Weak low-level moisture is located over most of Europe, except for parts of the Mediterranean and Black Sea as well as along a frontal boundary from the Balkans to the Baltic States. Steep lapse rates overlap with rich moisture across the east Mediterranean and western Black Sea.

DISCUSSION

Cyprus and eastern Mediterranean

An elevated mixed layer spreads east ahead of a cold front, affecting Cyprus and surroundings. It overlaps with rich moisture at low levels, resulting in high MLCAPE around 2000 J/kg. Lift is limited, and given some CIN, initiation is questionable. Storms may struggle to be maintained. Current thinking is that a few storms can nonetheless develop. Vertical wind shear is moderate to strong, with about 15 to 20 m/s deep layer shear. Supercells are forecast capable of producing large hail, severe wind gusts, and excessive rain. The tornado threat is quite limited as low-level shear is weak, however, an isolated tornado is not ruled out.

Farther west and across the Adriatic Sea, both CAPE and shear decrease. Though, severe weather is expected, due to higher storm coverage close to the cold front and skinny CAPE profiles. Excessive rain is the main threat, but waterspouts are also not ruled out.

Tyrrhenian Sea, Sardinia, Corsica

A mid-level PV intrusion moves across the west Mediterranean late in the period. It affects a moist air mass situated east of Corsica and Sardinia. MLCAPE will increase due to steepening lapse rates, and about 500 J/kg is forecast. Storms are expected to organize linearly along a frontal boundary, with training at the southern flank. Main threat will be excessive rain. However, given strong vertical wind shear and also strong winds at low levels, severe wind gusts and tornadoes are forecast. The threat is limited by rather weak MLCAPE.