Storm Forecast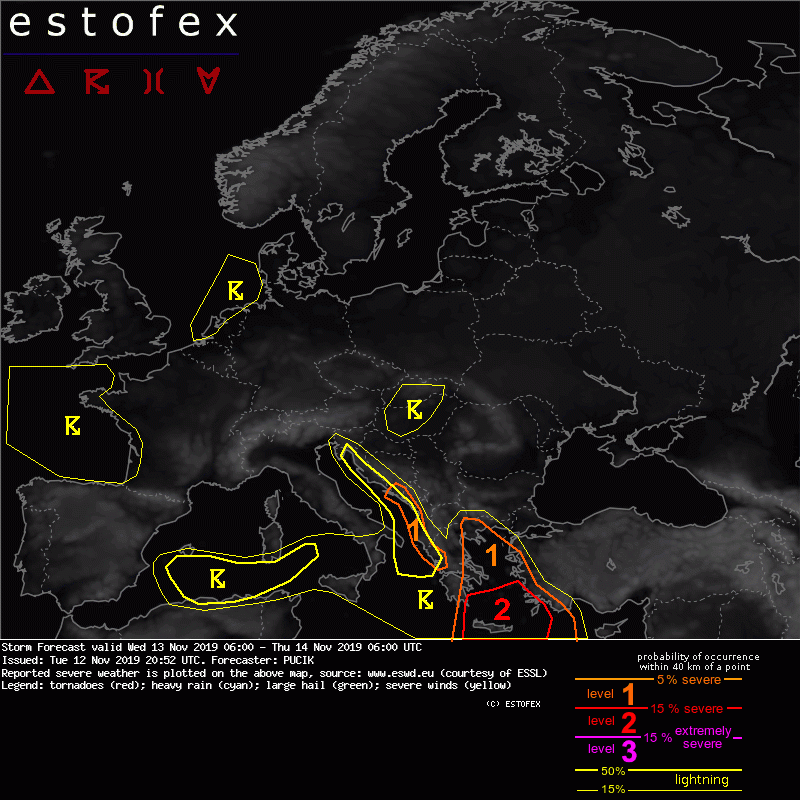 Storm Forecast
Valid: Wed 13 Nov 2019 06:00 to Thu 14 Nov 2019 06:00 UTC
Issued: Tue 12 Nov 2019 20:52
Forecaster: PUCIK
A level 2 was issued across southern Aegean Sea mainly for excessive rainfall and to the lesser degree for large hail and tornadoes.

A level 1 was issued across Aegean Sea and parts of southwestern Turkey mainly for excessive rainfall and to the lesser degree for tornadoes.

A level 1 was issued across the western Balkan coastline mainly for excessive rainfall and tornadoes.


SYNOPSIS and DISCUSSION

An active weather pattern will persist across much of Europe except for the eastern part. At mid to upper troposphere, a deep low is forecast to move from the Atlantic towards northern France. Around this low, several short-waves are simulated, the first one crossing the western Mediterranean during the day and the second one will rotate from northern Italy towards Poland. Towards the east, a trough will cross from the Ionian towards Aegean Sea.

The highest severe weather threat is forecast over the southern Aegean Sea, where modified elevated mixed layer, previously advected from Sahara, will still allow for MLCAPE values between 1000 and 2000 J/kg. Combined with the DLS values between 20 and 25 m/s, well organised convection is forecast with a variety of severe weather threats.

While lapse rates and CAPE will be lower over the western Balkans, forecast hodographs suggest considerable SREH in the lowest 1 km in the morning hours. Combined with low LCLS, the tornado threat, given convective initiation, seems to be the highest over this area.

Otherwise, the major risk will stem from excessive precipitation, given low LCLs and moist profiles. The threat will be somewhat diminished by the fact that shift in the lift will also shift the location of convective initiation, This should prevent quasistationary nature of convective systems over course of multiple hours.