Storm Forecast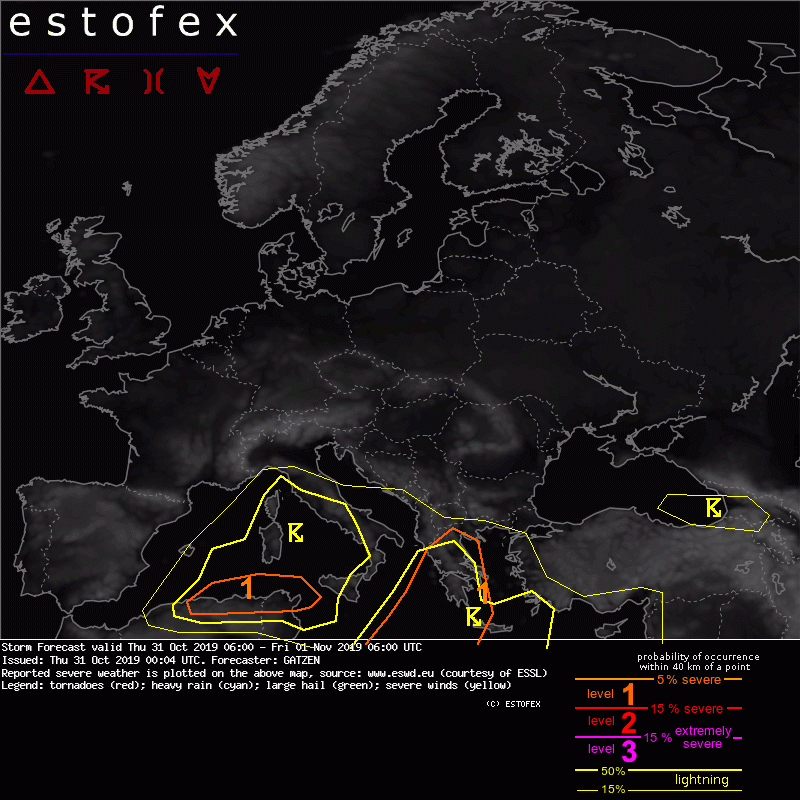 Storm Forecast
Valid: Thu 31 Oct 2019 06:00 to Fri 01 Nov 2019 06:00 UTC
Issued: Thu 31 Oct 2019 00:04
Forecaster: GATZEN
A level 1 was issued across the Ionian Sea, Greece, and surroundings for extreme rainfall.

A level 1 was issued across northern Algeria and Tunisia for extreme rainfall.

SYNOPSIS

Relatively low mid-level geopotential is present across Europe due to polar air masses. A high pressure system across eastern Europe is associated with dry air. Rich moisture can be found close to the Bay of Biscay and across the Mediterranean, where also steep lapse rates are present. Some MLCAPE is expected across most of the Mediterranean Sea. Main convective activity is forecast to arise ahead of a shallow moid-level trough that progresses over the west Mediterranean as well as farther east over Greece below the center of a mid-level vortex.

DISCUSSION

Forecast soundings across the Mediterranean indicate quite low potential for storm organization with short and disorganized hodographs. Main severe potential is due to heavy rain as indicated by skinny CAPE profiles and slow storm motion vectors. A level 1 was issued across Greece and the Ionian Sea where MLCAPE is highest and topography increases low-level convergence. Furthermore, northern Africa will we affected by a northerly upslope flow that assists in numerous storms late in the period. Next to rain, waterspouts near the coastlines are forecast across the Mediterranean.