Storm Forecast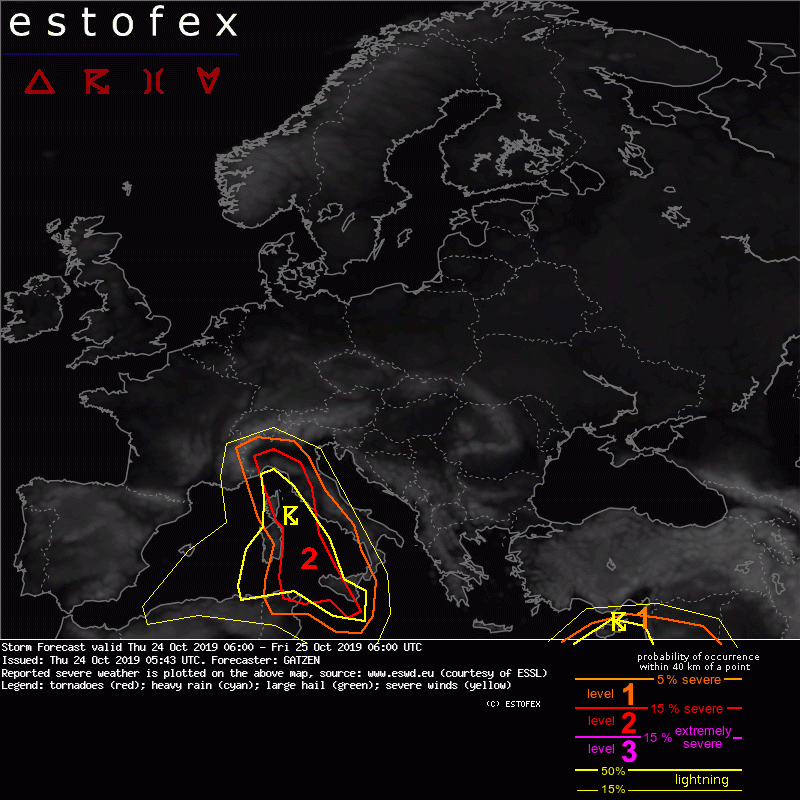 Storm Forecast
Valid: Thu 24 Oct 2019 06:00 to Fri 25 Oct 2019 06:00 UTC
Issued: Thu 24 Oct 2019 05:43
Forecaster: GATZEN
A level 2 was issued across the Tyrrhenian Sea and surroundings for extreme rainfall and to a lesser extent large hail, tornadoes, and severe wind gusts.

A level 1 was issued across Cyprus and east Mediterranean mainly for excessive precipitation and large hail.

DISCUSSION

Tyrrhenian Sea

The west-Mediterranean trough migrates est and starts to cut off. Ahead of the trough, frontal boundary and strong flow parallel to it still supports heavy precip in a moist and unstable air mass. However, instability is decreasing gradually and severe risk will start to weaken in the evening. Additionally, some large hail and wind reports are not ruled out exspecially in the southern part of the risk area, and tornadoes are possible.