Storm Forecast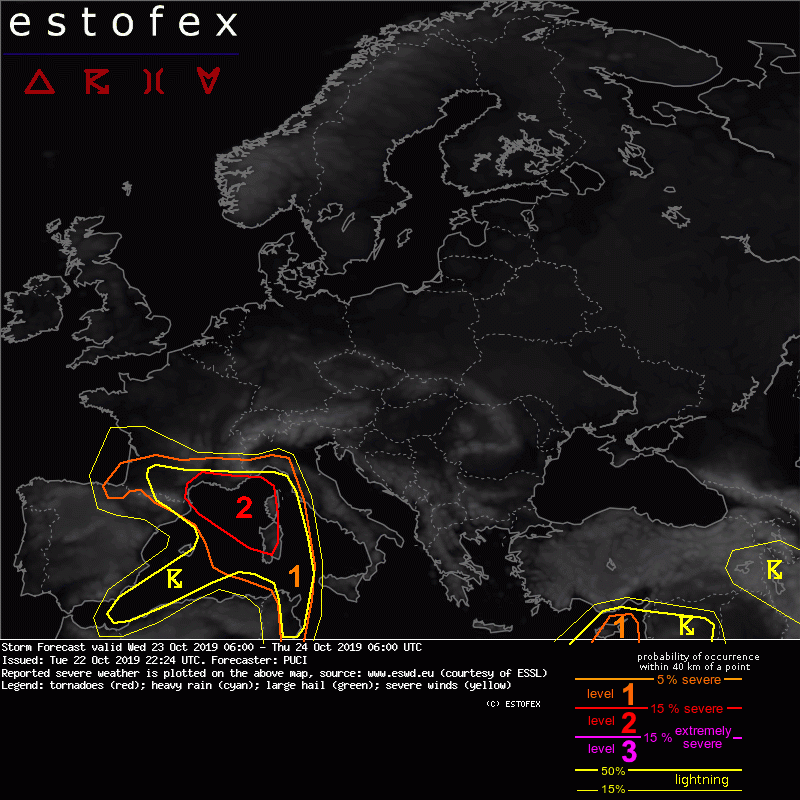 Storm Forecast
Valid: Wed 23 Oct 2019 06:00 to Thu 24 Oct 2019 06:00 UTC
Issued: Tue 22 Oct 2019 22:24
Forecaster: PUCI
A level 2 was issued across southern France and western coastlines of Corsica and Sardegna mainly for excessive precipitation and to the lesser degree for tornadoes.

A level 1 was issued across northern Spain, central Mediterranean mainly for excessive rainfall.

A level 1 was issued across Tunisia mainly for large hail, excessive rainfall and severe wind gusts.

A level 1 was issued for Cyprus for excessive rainfall.

SYNOPSIS

A deep low, centered over southwestern Iberia will translate towards the north and its base is forecast to eject northeastwards towards Sardegna and Corsica in the form of a short wave trough in the later part of the forecast period. Ahead of the low, in strong southerly flow, a belt of enhanced lower tropospheric moisture will lie ahead of the eastward advancing cold front. Scattered to widespread deep moist convection is simulated in this zone. Scattered storms are also forecast in the pool of low geopotentials over the eastern Mediterranean and the Middle East. In between of these features, an Omega-shaped ridge stretches from the Central Mediterranean into the Balkans and central Europe, with relatively warm and stable conditions over these areas.

DISCUSSION

... Western Mediterranean towards Italy ...

It is likely that a quasi-stationary convective system will be ongoing around the border region of Spain / France at the start of the forecast period. With low-level jet of 25 m/s impinging on the coastline and with profiles suggesting efficient rainfall processes, high rainfall amounts are anticipated. During the day, in conjunction with the movement of the cold front, the convective system will move eastward, potentially backbuilding towards south. By 06 UTC, NWP models suggest that initiation will take place as far south as Tunisia. Heavy rainfall will persist as the primary threat, but will be somewhat limited by the movement of the initiating boundary, diminishing the persistence of the convective system over one particular location. Threat of heavy rainfall will also begin to decline slowly towards the night hours as the low level jet weakens and CAPE values decrease.

Large hail threat will be present over Tunisia, but will be very marginal towards north due to the decrease in the lapse rates in the mid-troposphere. With the enhanced SRH and LLS exceeding 10 m/s, tornadoes will be possible, but the threat will be conditioned by the stability of the boundary layer. Some of the models suggest that much of the DMC will evolve in elevated form, which would reduce the tornado risk considerably.

... Cyprus ...

Scattered to widespread storms are forecast to form in the late evening to night hours over Cyprus. Forecast profiles suggest CAPE values exceeding 1000 J/kg along the coastlines, low LCLs and high RH throughout low to mid-troposphere. In such environment, slow moving thunderstorms may be capable of very heavy rainfall.