Storm Forecast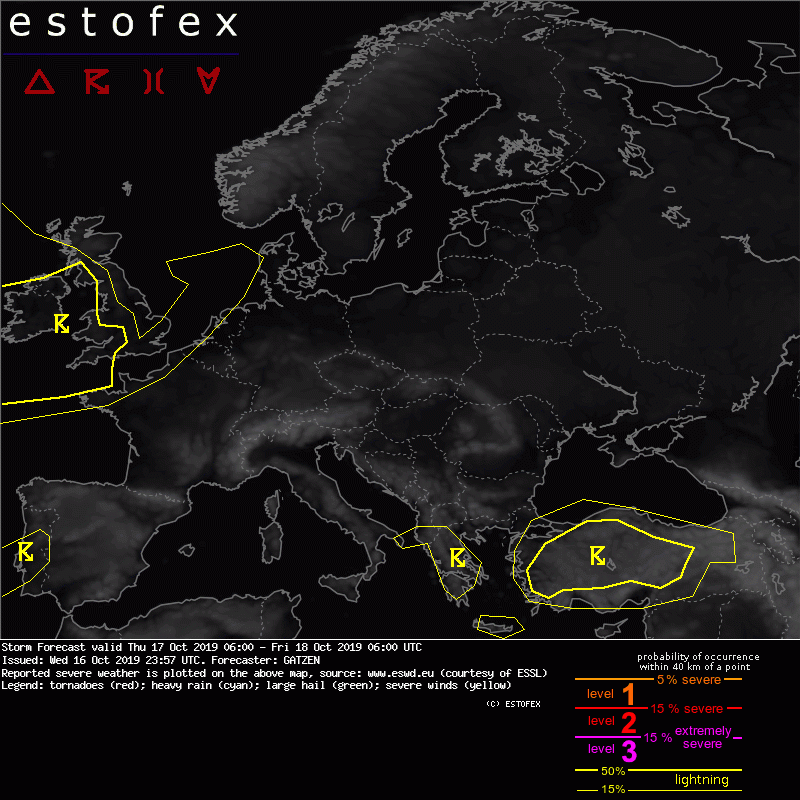 Storm Forecast
Valid: Thu 17 Oct 2019 06:00 to Fri 18 Oct 2019 06:00 UTC
Issued: Wed 16 Oct 2019 23:57
Forecaster: GATZEN
SYNOPSIS

A trough is placed across north-west Europe, yielding a south-westerly jet hat extends from the Bay of Biscay to Germany and farther into Russia that is affected by an embedded short-wave trough. Rather low geopotential is associated with weak mid-level winds across south-eastern Europe.

DISCUSSION

Greece, Turkey, and surroundings

A cool and well-mixed air mass overlaps with quite rich low-level moisture. MLCAPE up to 1000 J/kg is present over the warm waters of the Mediterranean, and some CAPE can also build in response to diurnal heating over the land. Showers and thunderstorms are forecast. Weak vertical wind shear will not support organized storms. Main threat is from waterspouts that can develop close to the shores in the morning. Additionally, slow moving storms pose a threat of locally excessive precipitation.

Portugal

A moist air mass is advected into Portugal. Some thunderstorms are forecast in the morning. Deep layer shear of 15 m/s can support some multicells, and with 0-3 km vertical shear, bowing segments are not ruled out. Severe threat is limited, though, although tornadoes are not ruled out. During the period, large-scale sinking will result in an increasing inversion and storms are not expected to go on.

British Isles

Showers and thunderstorms are forecast in the noon and afternoon. Vertical shear and MLCAPE are weak, and severe storms are not forecast. Severe wind gusts will be mostly the result of the strong background wind field. Over the Bay of Biscay, a PV intrusion will be associated with stretching at low levels, leading to steep lapse rates. Some stronger storms are forecast late in the period, with a slightly enhanced severe wind gust threat.