Storm Forecast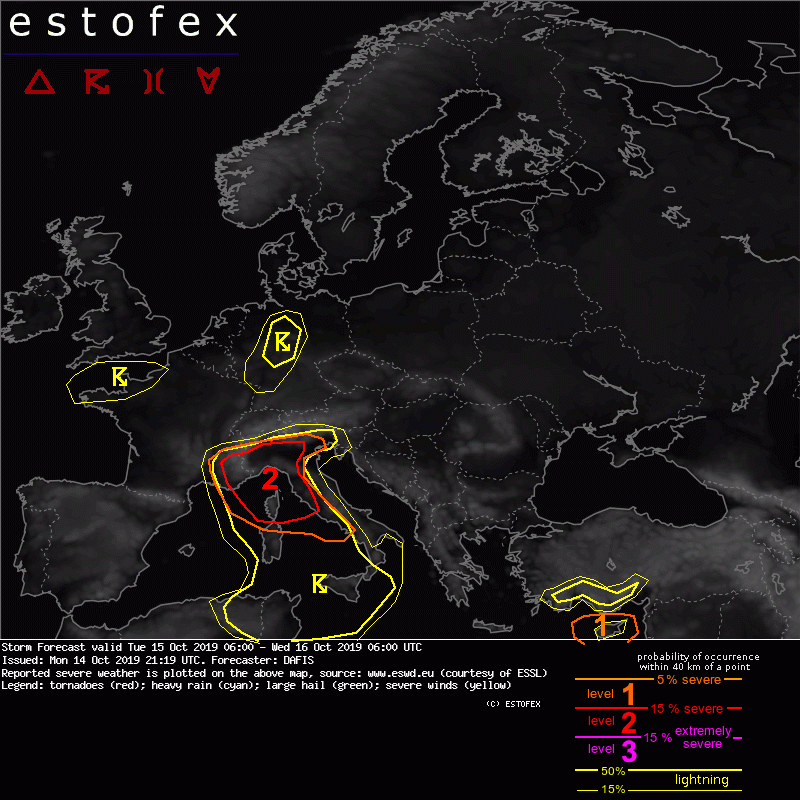 Storm Forecast
Valid: Tue 15 Oct 2019 06:00 to Wed 16 Oct 2019 06:00 UTC
Issued: Mon 14 Oct 2019 21:19
Forecaster: DAFIS
A level 2 was issued for SE France and parts of Italy mainly for excessive precipitation, severe wind gusts and tornadoes.

A level 1 was issued for Cyprus for severe wind gusts and large hail.

SYNOPSIS

The zonal flow over Europe is disrupted by a deep trough with an axis over France and Spain, moving fast east and resulting in a large-scale uplift of unstable air masses over the Mediterranean. The southwesterly flow over southern France has already led to flash floods from training convection. On Monday night 14/10 a squall line has formed in parallel to a cold front in South France, moving east and is expected to reach NW Italy by the morning of Tuesday 15/10. The trough becomes negatively tilted during Tuesday while entering Germany, where mostly non-convective severe wind gusts are expected.
A cut-off has formed south of Greece and destabilizes the eastern Mediterranean by providing lift to unseasonably warm air masses, though mid and upper-level moisture is limited and the severe-weather threat is limited.

DISCUSSION

.... France and Italy ....

A strong moisture flux convergence is expected near the coasts of Gulfs Lion and Genoa on Tuesday 15/10. Especially the orographic lifting of low-level moist air masses close to the coasts can result in flash floods with up to 100 mm in less than 2 hours. Moreover, strong low-level kinematics with veering profiles create high values of storm-relative helicity and shear, increasing the tornado threat. A few supercells may form well-developed mesocyclones, able to spawn tornadoes.

.... Cyprus ....

The north-easterly flow from continental Middle-East during Monday 14/10 will be replaced by an enhanced southerly flow due to the low-pressure system in SE Greece. The advection of warm and moist air masses will destroy the cap in the southern parts of Cyprus. High values of CAPE are forecast by both GFS and IFS, with more than 2000 J/kg close to the coasts. Most of the storms over land will stay elevated but the severe convective wind gust threat is elevated as well. Depending on the position of the storms forming in the southern parts of the island, a few storms over land may produce large hail and severe wind gusts given more than 1000 J/kg MUCAPE kai 15 m/s DLS. The widespread cloudiness from the cirrus canopy of storms forming south of Cyprus will limit diurnal heating over land, thus limiting the development of surface-based storms.