Storm Forecast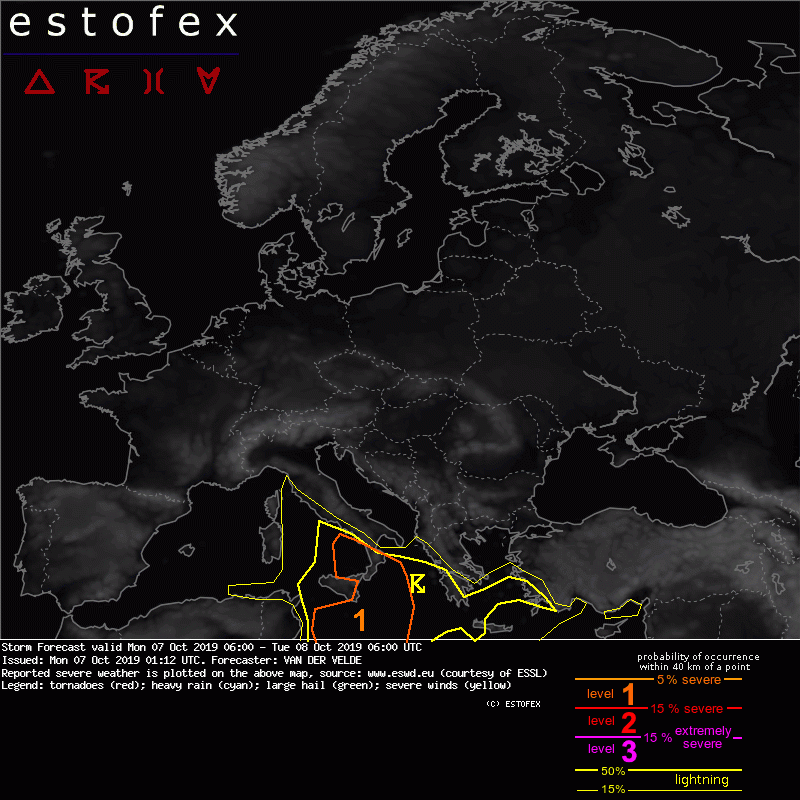 Storm Forecast
Valid: Mon 07 Oct 2019 06:00 to Tue 08 Oct 2019 06:00 UTC
Issued: Mon 07 Oct 2019 01:12
Forecaster: VAN DER VELDE
A level 1 was issued across southern Italy and Malta mainly for severe wind gusts and tornadoes.

SYNOPSIS / DISCUSSION

A cold front belonging to a large low near Iceland moves across the British Isles eastward. In advance of that, southwestern Europe sees a surge of warm air. Meanwhile, northern and eastern Europe are under a weak northern flow advecting cold air around a low over Russia. An extension of the Russian upper trough moves southward into the central Mediterranean and destabilizes the region.

The shortwave trough becomes stronger over the Tyrrhenean Sea and activates a cold front between Tunisia and Sicily during the afternoon and evening. This potentially becomes a squall line with some chances of severe wind gusts and is under moderate vertical shear and SREH conditions, although CAPE and mid level lapse rates are not so dramatic. Low-level lapse rates will be strong over the warm sea, as is vertical vorticity near the surface, and waterspouts could spawn off the coldfrontal storms as well as more isolated/clustered convection around southern Italian waters where storm motion will be strongly reduced during the afternoon, near the low pressure center.