Storm Forecast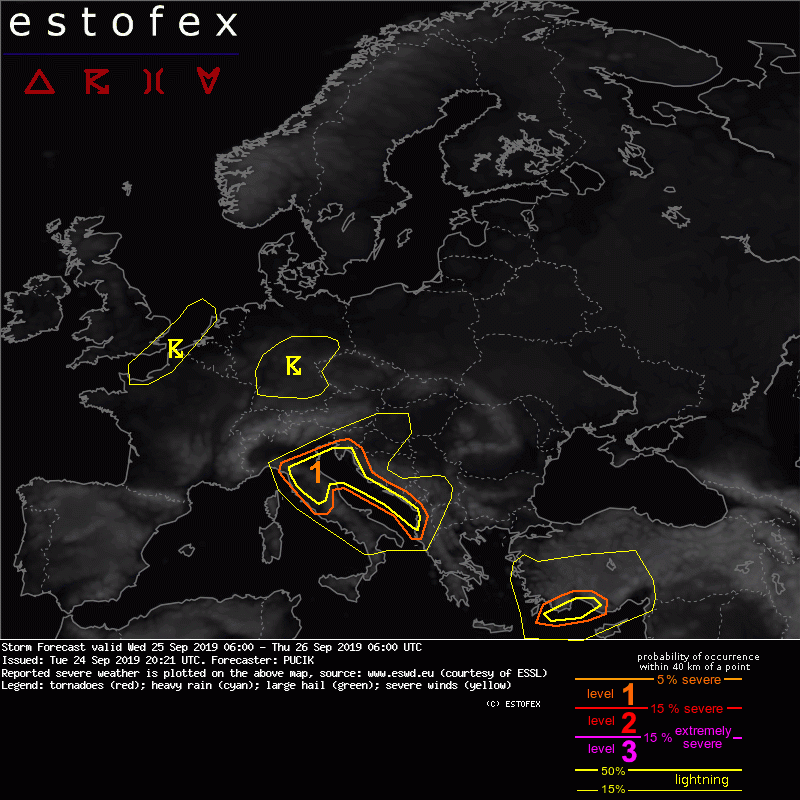 Storm Forecast
Valid: Wed 25 Sep 2019 06:00 to Thu 26 Sep 2019 06:00 UTC
Issued: Tue 24 Sep 2019 20:21
Forecaster: PUCIK
A level 1 was issued for parts of Italy and the Adriatic Sea mainly for excessive rainfall and to the lesser degree for large hail.

A level 1 was issued for southern Turkey mainly for excessive rainfall.

SYNOPSIS and DISCUSSION

An active weather pattern is forecast across much of western and southern Europe in a belt of a strong, zonal flow. A trough is forecast to cross form France and BENELUX towards Germany, northern Italy and Balkans. Another trough will lift northweastwards from southwestern Turkey during the forecast period.

The highest threat of severe weather is forecast over parts of Italy and the Adriatic Sea, ahead of the approaching trough. In environment of modestly steep mid-tropospheric lapse rates, NWP simulates skinny CAPE profiles combined with long and straight hodographs. Well organised storms are forecast, perhaps including some splitting supercells, capable of excessive rainfall (due to efficient heavy rainfall processes) and of locally severe hail. Large hail threat will be limited by weak buoyancy in the hail growth zone that may be offset to some degree by dynamic enhancement of updraft in supercells.