Storm Forecast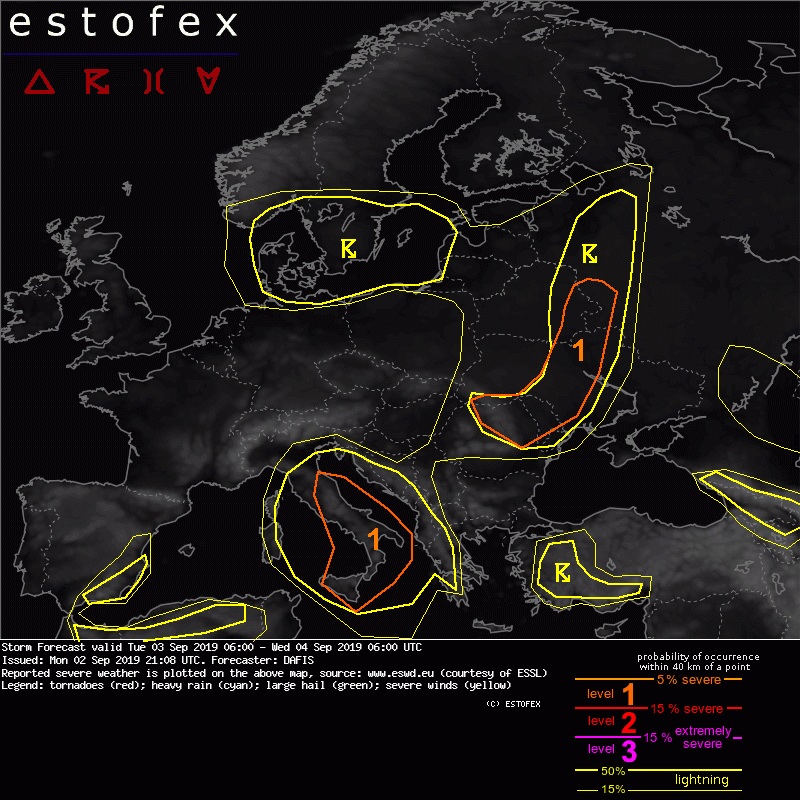 Storm Forecast
Valid: Tue 03 Sep 2019 06:00 to Wed 04 Sep 2019 06:00 UTC
Issued: Mon 02 Sep 2019 21:08
Forecaster: DAFIS
A level 1 was issued for Italy and Malta for excessive precipitation and tornadoes.

A level 1 was issued for parts of Romania, Moldova, Ukraine, Belarus, and Russia for excessive precipitation, large hail, and severe wind gusts.


SYNOPSIS

A long-wave trough is crossing Central Europe and results in a strong WAA in the NE parts of the continent, with high geopotentials up north to NW Russia and Finland. Two jets can be found in the analysis charts, one over Scandinavia and another one over the UK and Ireland. Another amplifying trough is approaching NW Europe associated with a surface vortex. Near the surface, during the night of Monday 02/09, a cold front is crossing Central Europe moving fast east, but on Tue 03/09 is expected to stall over the Balkans. The best thermodynamic conditions for DMC will be found on the aforementioned boundary in Eastern Europe, in Denmark and S Sweden where an embedded short-wave trough is forecast, and in Italy very unstable low-level air masses lie.
The latest WV satellite imagery shows an elongated moist air mass extending from Italy towards Russia, while West Europe is experiencing strong subsidence with very dry air, inhibiting convection.

DISCUSSION

.... Italy and Malta ....

Small upper/mid-level disturbances associated with the long-wave trough will provide lift to very unstable air masses. Storms will fire up even before noon and slow storm motions show a high threat for flash floods. Moreover, weak wind field and very unstable air masses over the sea, along with very warm SSTs increase the threat for waterspouts near the coasts of Italy and Malta, as well as in the east coasts of Corsica and the Adriatic Sea later on Wed 04/09.

.... Romania, Moldova, Ukraine, Belarus, and Russia ....

Warm and moist air masses lie in the level-1 area, where an approaching cold front will provide them with lift and storms are expected in the afternoon of Tue 03/09. In addition, an elevated mixed layer creates locally high values of CAPE, especially near the borders of Moldova with Ukraine and Romania. Steep mid-level lapse rates and high PWAT, along with about 1000 J/kg MLCAPE suggest that storms can produce large hail. DLS will remain below 10 m/s and weak storm motions also increase the probability for flash floods. In Ukraine, Belarus and Russia microburst threat is elevated due to high delta-theta-e values in NWP outputs.