Storm Forecast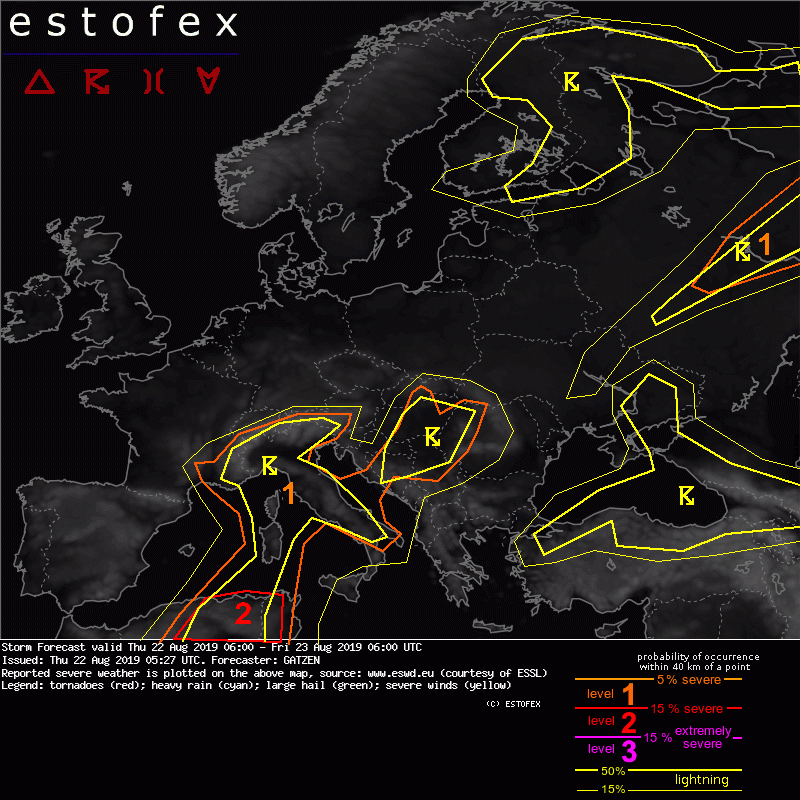 Storm Forecast
Valid: Thu 22 Aug 2019 06:00 to Fri 23 Aug 2019 06:00 UTC
Issued: Thu 22 Aug 2019 05:27
Forecaster: GATZEN
A level 2 was issued for northern Algeria and Tunisia mainly for large hail and severe wind gusts.

A level 1 was issued for the west Mediterranean mainly for excessive precipitation and large hail.

A level 1 was issued for the northern Balkans mainly for large hail and excessive precipitation.

SYNOPSIS

Ridging affects a large area from western across central to eastern Europe in the wake of a lifting trough. Two mid-level vortices remain over the west Mediterranean and Turkey and will almost not progress further. At low levels, cold air advection spreads across east Europe. Northern Europe is initially affected by the lifting trough.

DISCUSSION

North-eastern Algeria and northern Tunisia

Ahead of the west-Mediterranean trough, a westerly mid-level jet extends across northern Africa. At low levels, a cold front has entered the area. With northerly winds, high moisture advects onshore. Due to steep lapse rates at mid-levels, CAPE will build during the day, and storms are expected to initiate over the Atlas mountains. With about 15 m/s 0-3 km vertical wind shear, these storms will rapidly organize into super- and multicells, with large hail the main threat. Especially storms that form further south where inverted-v profiles are still present or will re-develop in the afternoon will also pose a threat of severe wind gusts. Downshear development towards the east is likely with stronger storm clusters, and a cold-pool driven MCS is not ruled out in the afternoon and evening with an ongoing severe wind threat and local flooding.

West Mediterranean and northern Italy

A moist air mass has become unstable due to cool mid-levels near the base of the trough. Thunderstorms have formed and will go on during the period. Most areas expect weak shear and main threat will be excessive precipitation. However, across the west Mediterranean, stronger deep-layer shear is forecast to support multicells and supercells. Main threat will be large hail with these storms.

Northern Balkans

Storms are expected to develop along the cold front today. From Slovakia to Hungary to the northern Balkans and Romania, these storms are expected to produce large hail and excessive precipitation as they organize due to increased vertical wind shear (deep layer shear around 10-15 m/s). The threat is limited, though.