Storm Forecast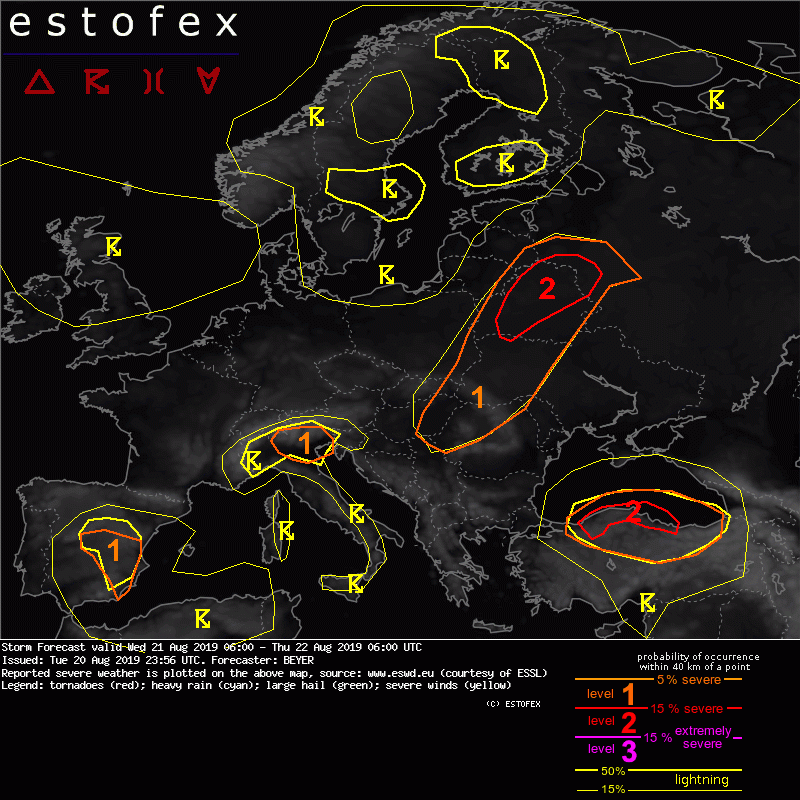 Storm Forecast
Valid: Wed 21 Aug 2019 06:00 to Thu 22 Aug 2019 06:00 UTC
Issued: Tue 20 Aug 2019 23:56
Forecaster: BEYER
A level 2 was issued for Northeastern Turkey mainly for excessive rainfall and subsequent flash floods and to a lesser extent for waterspouts.

A level 1 surrounds that area in Northeastern Turkey for the same threats but with a minor likelihood

A level 2 was issued for Belarus and small parts of the neighboring countries mainly for severe wind gusts and large hail as well as a locally enhanced threat for tornados

A level 1 surrounds that area including parts of Ukraine, Romania, Hungary, Slovakia, Poland, Latvia, and Russia mainly for severe wind gusts and locally large hail.

A level 1 was issued for parts of Spain, mainly for large hail and to a lesser extent for severe wind gusts.

A level 1 was issued for the Eastern Alps into Northeastern Italy mainly for excessive precipitation and with a lesser extent for large hail.

SYNOPSIS

An active frontal zone influences Northwestern and Northern Europe. In mid- and upper levels a broad longwave trough which consists of several short wave troughs results in unsettled and windy conditions from the British Isles to Scandinavia. At the surface, the steering low can be found south of Iceland. In combination with the passage of trough axes and cool upper-level temperatures, showers and short thunderstorms can be expected in most parts of that area.

Further to the south, a strengthening high-pressure bridge stretches from the near Atlantic ocean to Eastern Europa. Therefore stable conditions are present over most parts of Western and Central Europe.

To the east of the low level high, a strengthening surface low moves northeastward throughout the day. This surface low is accompanied and supported by a short wave trough and an upper-level jet. In addition, a well-defined wind maximum can be found in mid-levels close to the cold front.

Spain will be influenced by another short wave trough that moves from west to east during the forecast period and which shows an upper to mid-level wind maximum to the south and southeast of the trough axis.

Finally, an upper-level low is situated over Northeastern Turkey and remains almost stationary during the valid time of the outlook.


DISCUSSION

... Northeastern Turkey ...

To the west of the mentioned upper-level low-pressure center, humid air masses from the Black Sea area advected inland. In addition, rather cool mid-level temperatures a present, leading to instability. As a result, CAPE values of a few hundred J/kg are forecasted.

Starting in the morning hours, convection is already present, especially near the coastline. During the day convection should become more widespread and active with the help of daytime heating more inland (steeper lapse rates).

With the permanent advection of humid airmass and locally present convergence, both concerning direction and speed, persistent thunderstorm activity at the same area is likely. Having deep humid vertical profiles and high ppw values an enhanced threat for excessive precipitation exists. Taking also into account orography the risk for flash floods is present.

Although DLS values are forecasted to be rather weak, locally enhanced values (10 to 15 m/s) are possible (due to topographical effects). Thus a local large hail event cannot be excluded.

Near the coastline, convergent low-level winds can be found in several LAMs. This in combination with slow upper-level winds and rather weak shear values results in an enhanced risk for waterspouts.

The convective activity will persistent also during the night, especially near the coast.

... Parts of Eastern Europe ...

The cold front of the strengthening surface low is forecasted to become active during the day. Besides the fact that the area of interest lies under the right entrance region of the upper-level trough, a pronounced horizontal wind shift line is forecasted with southerly to easterly prefrontal winds and westerly to northwesterly winds just behind the cold front. This wind-shift line extents vertical and is also visible in mid-levels.

As a result, a clear maximum in the moisture convergence field is present. This moisture accumulation in combination with instability leads to a narrow CAPE maximum along the cold front.
The cold front should become active in the early afternoon hours. However, models are quite reluctant concerning the development of storms and this then is also the main uncertainty of the outlook in that region. Nevertheless, signals of an active cold front are present in most of the models.

Having high values of DLS between 15 to locally 25 m/s supercells may develop along the cold front. They have a chance to bring severe wind gusts. This is supported by strong mid-level winds of 35 to 50 kn in 700 hPa and 30 to 40 kn in 850 hPa. Also, large hail is locally possible.

Approaching the warm front shield to the north, hodographs are nicely curved with a pronounced right turning of the winds especially in the lowest layers. In addition, SRH0-3km/h values are enhanced, although the SRH maximum is present more to the north in the stable parts of the surface low. Nevertheless, ingredients for tornadoes are quite good in the northern part of our level 2. Again, the main uncertainty is CI.

... Parts of Spain ...

Steep mid-level lapse rates are present and can overlap with specific humidity values that are highest when approaching the coastline of Spain. However, enough surface moisture is also present more inland to develop CAPE values of 500 to 1000 J/kg. At the same time, a pronounced short wave trough reaches the area of interest, moving eastward.
As a result, all ingredients for deep moist convection are present. Thunderstorms are expected to develop around noon and activity should then increase during the afternoon hours.

On the southern and southeastern flank of the trough, a wind maximum in mid and upper levels can be found. Therefore DLS is clearly enhanced with values of up to 25 m/s. Further to the north where convection is most likely, DLS is not so strong but still enough to produce a few better-organized storms, even supercells are possible.

Combining CAPE and shear, large hail events are possible. Also, locally severe wind gusts cannot be excluded, having a somewhat larger spread in the lowest layers (prognostic soundings). Although storms are in general not slow-moving, winds in 500 hPa are clearly decreasing further to the north. Thus locally enhanced precipitation sums are possible there.

... Eastern Alps into Northeastern Italy ...

A good combination of steep lapse rates and LL moisture can be found in the area of interest. Moisture is provided by and advected from the Adriatic Sea while instability can develop due to steepening lapse rates during the day. Lift is provided by diffluent upper levels.

Convection is forecasted to develop during the day whereby it should first initiate over the mountains. Later, with the constant advection of LL moisture, storms are expected to also develop in the eastern parts of the Po Valley. This is where DLS is forecasted to have values between 15 to 20 m/s. Thus organized storms are possible and also supercells that bring locally large hail and severe wind gusts cannot be excluded.

Closer to the Alps, with the help of Alpine pumping, LAMs give clear hints for excessive precipitation events and subsequent local flash floods, especially at the border of Italy and Austria.