Storm Forecast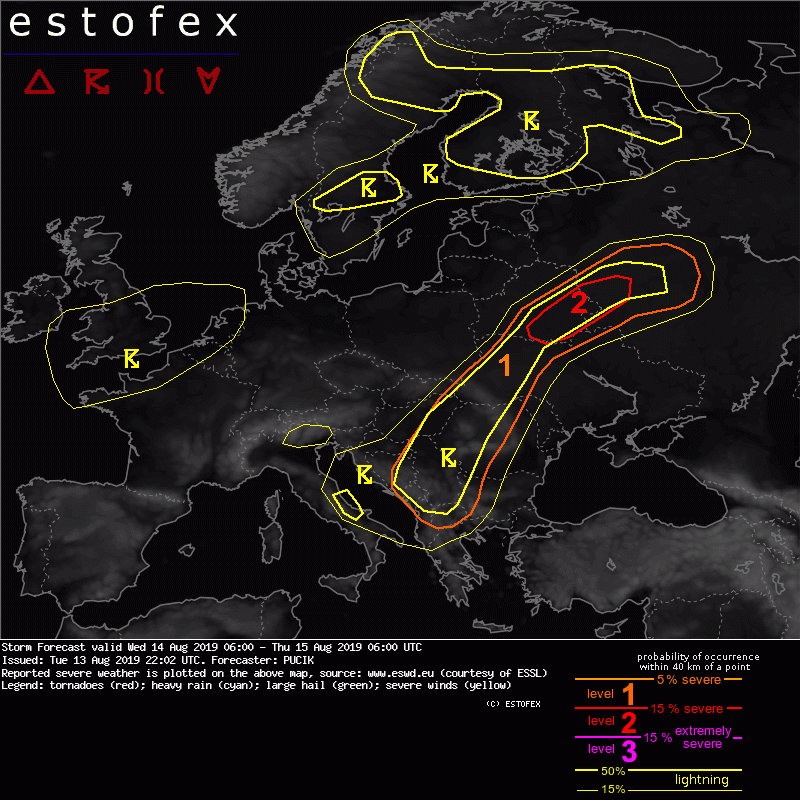 Storm Forecast
Valid: Wed 14 Aug 2019 06:00 to Thu 15 Aug 2019 06:00 UTC
Issued: Tue 13 Aug 2019 22:02
Forecaster: PUCIK
A level 2 was issued across S Belarus to W Russia for tornadoes, large hail, severe wind gusts and to the lesser degree for heavy rain.

A level 1 was issued from Montenegro to Ukraine mainly for large hail, heavy rain and severe wind gusts.

SYNOPSIS

At the mid to upper troposphere, a trough stretching originally from Denmark towards N Italy will continue moving E- and NE-wards towards Finland, the Baltics, Ukraine and Balkans. Behind the trough, a strong zonal flow will establish over much of W Europe. Closer to surface, a frontal system will cross British Isles during the day and a wavy cold front will continue moving from Central towards E Europe. Along this boundary, a surface low will move from W Ukraine to S Belarus and W Russia, deepening during the day. Most of the thunderstorm activity will be confined to this boundary and then to the mid to upper tropospheric low over parts of Scandinavia.


DISCUSSION

... S Belarus to W Russia ...

As the warm part of the wavy boundary crosses the region, increase in the lower tropospheric moisture will result in build of 500 to 1500 J/kg of MLCAPE. At the same time, along and north of the advancing warm front, NWP consistently simulates strongly sheared environment with curved hodographs, 0-6 km bulk shear exceeding 20 m/s and 0-3 km SRH exceeding 300 m2/s2 during the afternoon and evening hours. Given the shear being confined to the lowest 1 km of troposphere and low LCLs, environment seems to be supportive of strong tornadoes. Besides those, any developing supercell would be also capable of large hail and severe wind gusts, though these risks may be mitigated somehow by lack of steep lapse rates either in the mid or in the lower troposphere.

A level 3 was considered due to possibility of a regional tornado outbreak, but was not issued at the moment due to:

1. Discrepancy among NWP in the exact corridor of the best CAPE/high SRH overlap. ICON places this corridor over extreme S Belarus, while GFS and ECMWF trend for more northward extent of tornado risk.

2. Predicted motion of the cells towards stable boundary layer. It is forecast that storms will be initiated along the warm front and will track towards the cooler airmass when considering the Bunkers ID vector for right-moving supercells. This could potentiall limit the window for tornado production.

Nevertheless, a robust Lvl 2 is issued especially for considerable tornado risk. Severe wind gust risk may increase towards the evening hours as well, as storms congeal into a system that will move towards Russia. Isolated heavy rainfall event may occur with such system as well.

... Montenegro, Serbia, Romania, E Hungary, Ukraine ...

It is likely that scattered to widespread thunderstorm activity will be ongoing around the western edge of the Lvl 1 in the morning. While the activity will weaken towards the noon, further redevelopment is forecast in the afternoon hours. The degree of this redevelopment is uncertain though and so is the extent of CAPE. For example, ECMWF is more aggresive with afternoon storms over Serbia and Romania than ICON or GFS. While these factors remain uncertain, all models point to the presence of strongly sheared environment, which would favor well organised convection, including supercells. Thus, will draw a rather large Lvl 1 to encompass the threat of large hail, severe wind gusts and perhaps also heavy rain in the morning and late evening to night hours.