Storm Forecast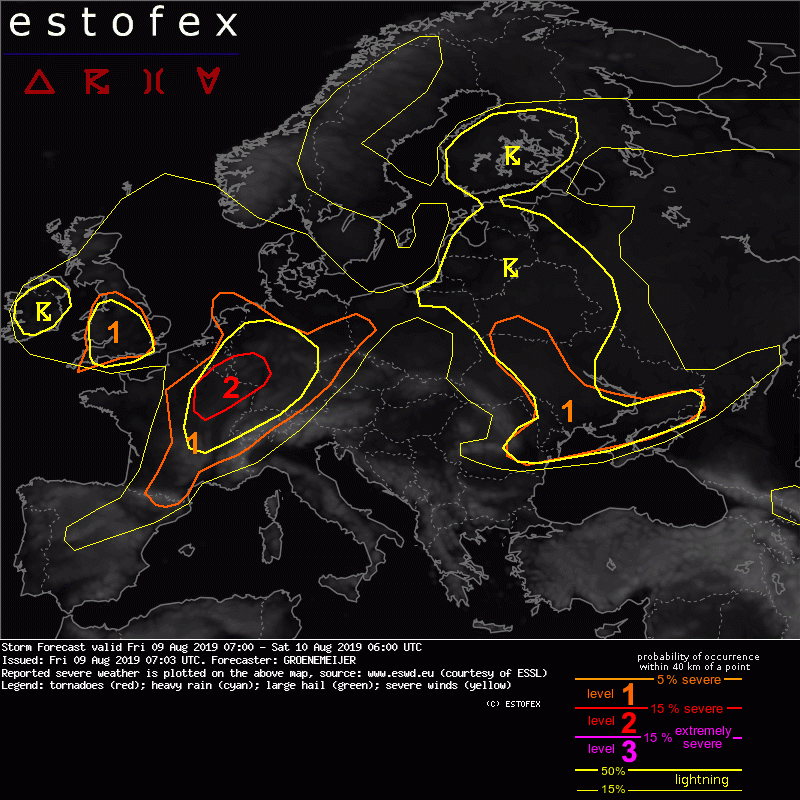 Storm Forecast
Valid: Fri 09 Aug 2019 07:00 to Sat 10 Aug 2019 06:00 UTC
Issued: Fri 09 Aug 2019 07:03
Forecaster: GROENEMEIJER
A level 2 was issued across southeast Belgium, Luxembourg, West-central Germany and Northeast France for wind gusts, large hail, extreme rainfall and tornadoes.

A level 1 was issued across a large part of France, Switzerland, the Benelux, Germany, West Czechia and extreme W Poland for wind gusts, extreme rainfall and large hail.

A level 1 was issued across parts of England and Wales for heavy rainfall, large hail and tornadoes.

A level 1 was issue over southern Belarus, large parts of the Ukrain, Moldova and East Romania, mainly for large hail and to a lesser extent for severe wind gusts.

SYNOPSIS

A strong southwesterly mid- and upper-level flow across the Bay of Biscay and Northwest Iberia slowly translates into Western Europe, providing strong vertical wind shear. In vicinity of a low-level trough that translates northeast across France, the Benelux and Germany, well-organized storms are forecast to cause severe weather.

DISCUSSION

France, Benelux and Germany...

Along a cold front that extends from near London to Nantes, a low-level trough is developing across the Pays-de-la-Loire, that will likely become the focus of storm activity to develop during the day. Ahead of the trough and the front, abundant low-level humidity is analyzed with dew point temperatures of up to 20 C at 06 UTC. As a result, some 500 - 1200 J/kg MLCAPE is expected to develop as the boundary layer warm during the day, albeit with relatively modest lapse rates. In addition to elevated convection, surface-based initiation is expected during the early afternoon, or elevated convection may gradually become surface-based Deep-layer shear should increase as the mid/upper-level jet translates eastward, yielding 20-30 m/s of DLS across the level 2 area. As a result, a few supercells may develop, as supported by several convection-allowing models. They will be capable of producing all hazards. Fairly strong low-level bulk shear around 10 m/s and low LCL heights suggest that some risk for tornadoes will exist as well. The strong winds in the lowest kilometres suggest that swaths of damaging winds may occur with the best organized storms.

Wales and England...

Modest instability will be available here, but rather strong widnd shear suggests that some well-organized low-topped storms may develop during the day, producing heavy rain. Any rotating updrafts will be able to sustain marginally large hail. In addition, the strong low-level shear suggests an isolated tornado cannot be ruled out.

Belarus, Ukraine, Moldova and East Romainia...

Cooler air is moving southward across this region. Along and ahead of a leading cold front over southern Ukraine, as well as further north in the cooler air, moderate instability and deep-layer shear overlap. This suggest that a number of well-developed multicells or supercells could evolve, creating a risk primarily of isolated large hail.