Storm Forecast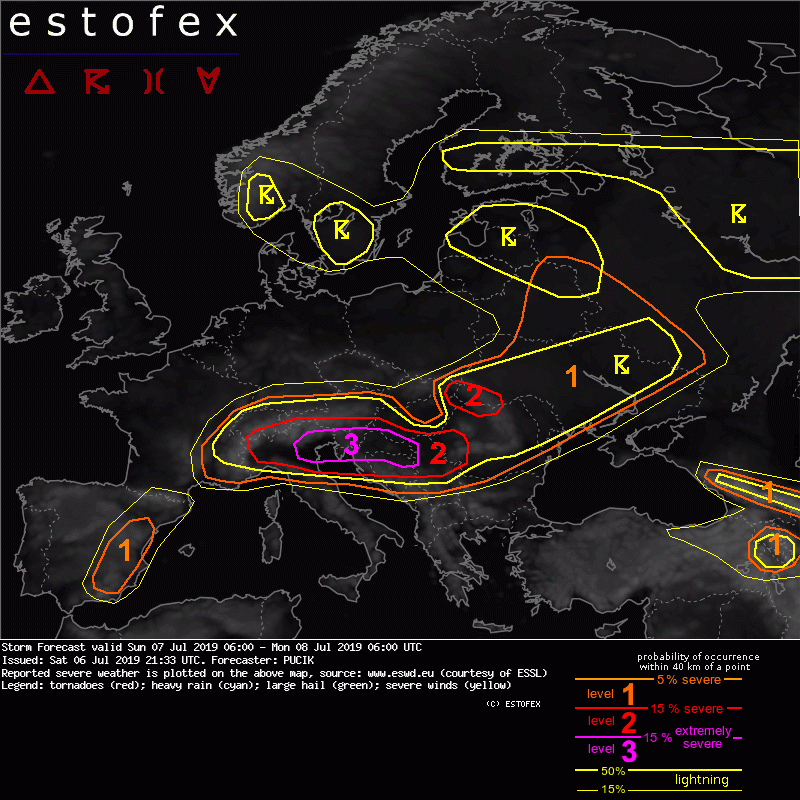 Storm Forecast
Valid: Sun 07 Jul 2019 06:00 to Mon 08 Jul 2019 06:00 UTC
Issued: Sat 06 Jul 2019 21:33
Forecaster: PUCIK
A level 3 was issued across NE Italy, Slovenia, N Croatia and N Bosnia mainly for damaging wind gusts, large to very large hail and excessive rainfall.

A level 2 was issued across N Italy, N Adriatic, N Bosnia, N Serbia into extreme W Romania mainly for large to very large hail and damaging wind gusts.

A level 2 was issued across E Slovakia into SW Ukraine and extreme NW Romania mainly for large to very large hail, severe wind gusts and excessive rainfall.

A level 1 was issued across Massif Central, N Alpine forelands mainly for large hail, excessive rainfall and severe wind gusts.

A level 1 was issued across Romania, Ukraine and Belarus mainly for severe wind gusts and large hail.

A level 1 was issued across E Spain mainly for severe wind gusts and large hail.

A level 1 was issued for the Caucasus region mainly for excessive rainfall and severe wind gusts.

SYNOPSIS

In a broad belt of strong zonal flow at mid to upper troposphere, several short-waves troughs are forecast to track from the Northern Sea through N Poland towards the Baltics and Russia. At the same time, closer to the surface, a low pressure system will move from the Baltic Sea towards Russia. Associated cold front, which will be located over N France, S Germany, Czech Republic and SE Poland on Sunday 06 UTC, will move towards the Alpine range and cross Austria, Hungary, much of Romania and Ukraine by the next morning. As strong mid-tropospheric flow will overlap moist boundary layer ahead of the front, large area over Europe, in a belt from E France towards Belarus, may experience at least isolated severe convective storms.

DISCUSSION

... N Italy towards W Romania ...

A severe weather outbreak is forecast over the area given overlap of 15 - 25 m/s of DLS with 1000 to 3000 J/kg of MLCAPE, yielding high probabilities of severe weather in any convective storm that forms. Scattered to widespread coverage of storms is forecast from NE Italy to Romania with cold front serving as a lift factor of virtually uncapped airmass. Coverage of storms becomes more questionable over NW Italy, given the fact that cold front does not reach this area and initiation will likely depend on the local topography.

Abundant convective activity may already be ongoing over the Alpine range and over N Italy / Slovenia on Sunday morning. Given the environment, this activity may already be severe and may impact the consequent development over the northern part of the area. As day progresses, further rounds of severe convective storms are forecast. It is likely that isolated supercells will form on the Alpine and N Appenines foothills in the early afternoon to evening hours and progress SE-wards, merging into one or more convective systems. High res NWP currently suggests that one such system may cross from NE Italy towards the Adriatics and another one from Slovenia towards Croatia, N Bosnia and Serbia. Towards the late evening and night hours, storms are forecast to reach and/or initiate over Romania.

Large to very large hail will accompany supercells, while well organised systems, including bow-echoes, may produce multiple swaths of damaging wind gusts. Tornado threat will be low initially given weak low level shear, but may increase towards the evening with strengthening wind field around the Adriatic Sea. Level 3 is introduced for the region where widespread storm activity is simulated in high CAPE and strong shear parameter space.

... N Alpine range and forelands ...

Widespread storms are forecast to form early in the day over the region. The storms will form in the environment of skinny CAPE profiles and 15 to 20 m/s of DLS. While several supercells and well organised multicells are likely, updraft speed will be limited by lack of large buoyancy in mid troposphere. This reduces the risk of large to very large hail compared to the area south of the Alpine range. Furthermore, lack of strong lower tropospheric shear and moist boundary layer reduce the threat of damaging wind gusts. At the same time, mean storm motion of 15 m/s reduces the risk of excessive rainfall. While Lvl 2 was considered for the area, it does not seem that environment will favour widespread form of any particular type of severe weather threat and Lvl 1 seems sufficient at the moment.

... E Slovakia into SW Ukraine and NW Romania ...

Carpathians are forecast to deform the passage of the cold front and while it surges across the Hungarian plains, E Slovakia and adjacent areas will remain in the warm and unstable airmass. After the first overnight round of convection, the first storms are forecast to initiate over NE Slovakia and will spread SE-wards during the day. DLS between 20 and 25 m/s will favour supercells with threat of large to very large hail and severe wind gusts. Lack of steep lapse rates may somewhat reduce the hail risk outside the supercellular convection. It is likely that storms will eventually merge into one or more bow-echoes, which will profit from more than 15 m/s of 0-3 km shear, shifting the primary threat from large hail to severe wind gusts.

... Romania into Ukraine and Belarus ...

Isolated to scattered thunderstorms are forecast to form along the fast moving cold front in the environment of 20+ m/s of DLS. Straignt hodographs suggest splitting supercells and linear segments, posing threats of large hail and severe wind gusts. Severe weather threat will be mitigated to some degree by lack of steep lapse rates and weak buoyancy in the mid-troposphere.


... E Spain ...

Combination of large Inverted-V in the forecast hodographs along with strong flow near the LCLs suggest an enhanced threat of severe wind gusts in any storms that form during the day. Towards the coastline, higher CAPE values may also allow for large hail in high-based, rotating storms forming in DLS of around 20 m/s. While initiation is highly uncertain, will keep a Lvl 1 over the area.