Storm Forecast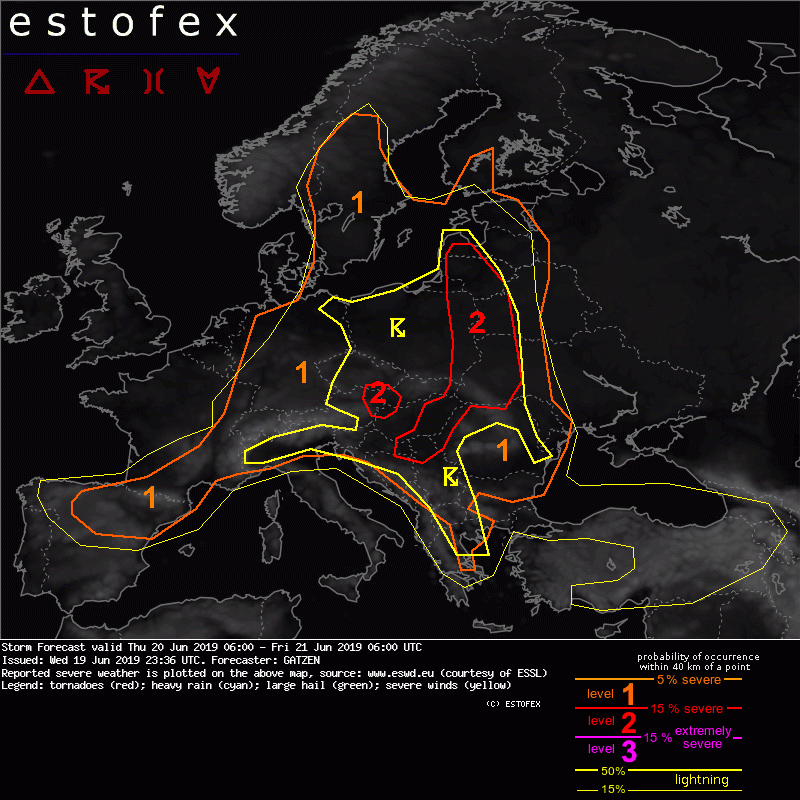 Storm Forecast
Valid: Thu 20 Jun 2019 06:00 to Fri 21 Jun 2019 06:00 UTC
Issued: Wed 19 Jun 2019 23:36
Forecaster: GATZEN
A level 2 was issued across the southern Baltic States, east Poland, west Belarus, west Ukraine, east Hungary into northern Serbia and eastern Croatia mainly for largeh ail and excessive precipitation.

A level 2 was issued for east Austria mainly for large hail.

A level 1 was issued across large parts of eastern central Europe mainly for excessive precipitation and large hail.

A level 1 was issued for the southern Alps mainly for large hail.

A level 1 was issued for north-east Spain mainly for large hail and severe wind gusts.

A level 1 was issued across southern Sweden mainly for severe wind gusts and tornadoes.

A level 1 was issued for Germany into southern France mainly for large hail and severe wind gusts.

SYNOPSIS

A deep anticyclone is present across eastern Europe. A south-westerly mid-level flow has evolved across western Europe ahead of an Atlantic trough that is centred between the British Isles and Iceland. A mid-level vort-max will travel across western Europe as it rotates around the Atlantic trough. Furthermore, a short-wave trough slowly lifts over the Bay of Biscay, yielding a strong mid-level jet from Iberia to the west Mediterranean Sea. At lower levels, a cold front has already crossed Germany by Thursday 06 UTC. Behind the cold front, low-level moisture will be gradually replaced. However, diurnal heating and improving lapse rates can support some CAPE and local thunderstorms are likely ahead of the approaching trough axis. Farther east and south-east, rich low-level moisture and weak vertical wind shear are present. Finally, upslope flow over north-eastern Spain can result in some storms as well.

DISCUSSION

North-western Spain

Behind the cold front, diurnal heating will result in backing low-level winds, advecting some moisture upslope. Models agree on isolated storms during the day and evening over the mountains. With 20 m/s deep layer shear and long and slightly curved hodographs, right-moving supercells are forecast, with large hail the primary threat, although some severe gusts are not ruled out. Overall coverage is expected to be relatively low. Storms will weaken in the evening when drier air spreads eastward.

Baltic States to eastern Poland and western Ukraine, Balkans

In weak shear and flow, moderately high CAPE of 1000-2000 J/kg is expected. Storms are forecast along a broad zone of convergence ahead of the approaching cold front as well as over mountains and along the sea breeze. Given weak shear, primary storm mode is clusters of single cells and some pulse storms. Large hail and excessive precipitation are forecast, along with isolated severe wind gusts. The most prominent regions for initiation have been highlighted by level 2.

Southern Sweden, north-western Poland, Germany, Switzerland into southern France

In the wake of the cold front, increasing shear but decreasing moisture will be present during the day. As a mid-level short-wave trough crosses the region, the cap is forecast to be rather weak over most places, allowing convection initiation. With 15 m/s deep layer vertical wind shear, multicells and some supercells are forecast, capable of large hail and severe wind gusts. Over southern Sweden, stronger shear, also in the low levels, will increase the threat of supercells somewhat. This is in particular central Sweden, where low-level hodographs are favorable for tornadoes as well. The overall coverage of severe weather is expected to be too low over the area to justify a level 2.

Southern Alps

Although large-scale vertical wind shear is just 10-15 m/s, local topography will support some regions with stronger vertical wind shear and curved low-level hodographs. Storms that initiate over the Alps and root to the low-level moist air mass are forecast to become severe. Supercells will especially be accompanied with severe hail, whereas severe wind gusts expected to be rather local.