Storm Forecast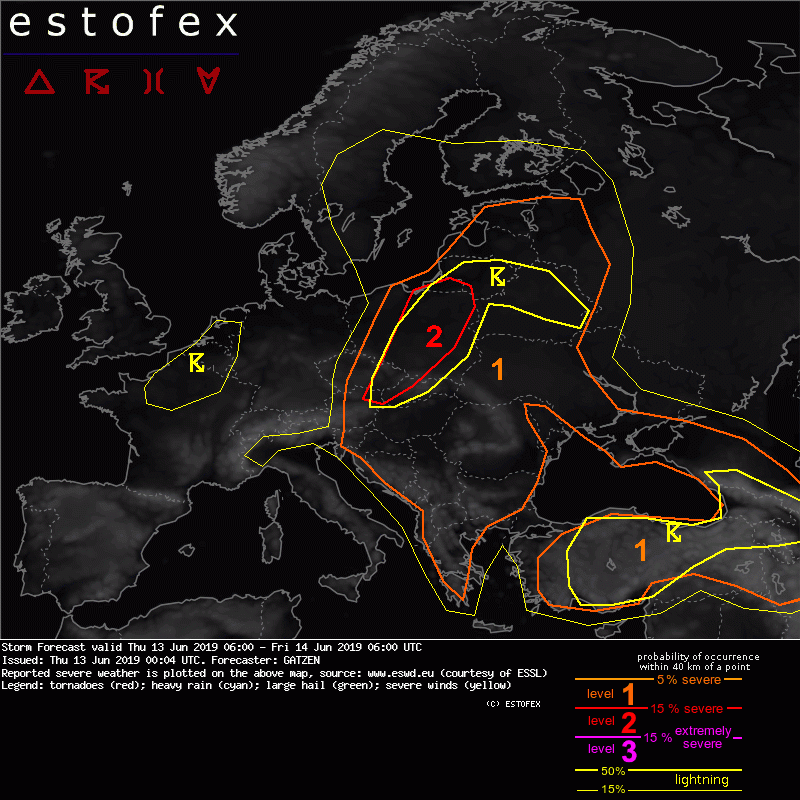 Storm Forecast
Valid: Thu 13 Jun 2019 06:00 to Fri 14 Jun 2019 06:00 UTC
Issued: Thu 13 Jun 2019 00:04
Forecaster: GATZEN
A level 2 was issued for central Poland into the Baltic States and east Czechia mainly for large hail and excessive rain and to a lesser extent severe wind gusts.

A level 1 was issued for the Balkans mainly for large hail and excessive precipitation and to a lesser extent severe wind gusts.

A level 1 was issued for Turkey and the Black Sea region mainly for excessive precipitation and large hail.

SYNOPSIS

A trough situated across northern France on Wednesday evening lifts ahead of another impulse of low geopotential directed towards the western British Isles. A cold front moves east into Poland and pushes an unstable air mass far towards eastern Poland and Czechia. Farther east, dry air masses enter southern and western Russia. A weakening mid-level trough remains across Turkey.

DISCUSSION

NE Austria, Poland into Baltic States

The cold front of a low moving into Sweden will continue eastwards in the morning. Some weakening showers and thunderstorms are expected, in particular close to the low pressure center and along the Poland – Czech border. Ahead of the cold front, diurnal heating will result in MLCAPE of 1500 – 2000 J/kg, and initiation of new storms is forecast. With 0 – 6 km DLS around 13 m/s, main forecast storm mode is multicells, although some supercells could occur due to favorably veering low-level hodographs. Storm movement will be mostly along the cold front, with a potential of rapid clustering. Main threat of convective storms will be large hail and excessive rain. However, severe wind gusts are also possible, especially when storms form a squall line and move northward into the Baltic States.

Balkans

Rich low-level moisture and steep lapse rates can result in 2000 J/kg MLCAPE. Initiation is forecast in the noon hours across mountains. Although deep layer vertical wind shear is too weak to support long-lived supercells, rotating updrafts can given the strongly curved low-level hodographs. Main threat for these storms is large of very large hail. Severe wind gusts and excessive rain are not ruled out. Overall coverage will be small, given weak QG support and mid-level ridging.

Turkey and Black Sea region

In a weakly sheared environment, diurnally driven storms are forecast given rather cold mid levels and upslope flow along the shores. Skinny CAPE profiles point towards excessive rain, along with some large hail. Severe wind gusts are most likely in the Ukraine where low-level mixed layers are present.