Extended Forecast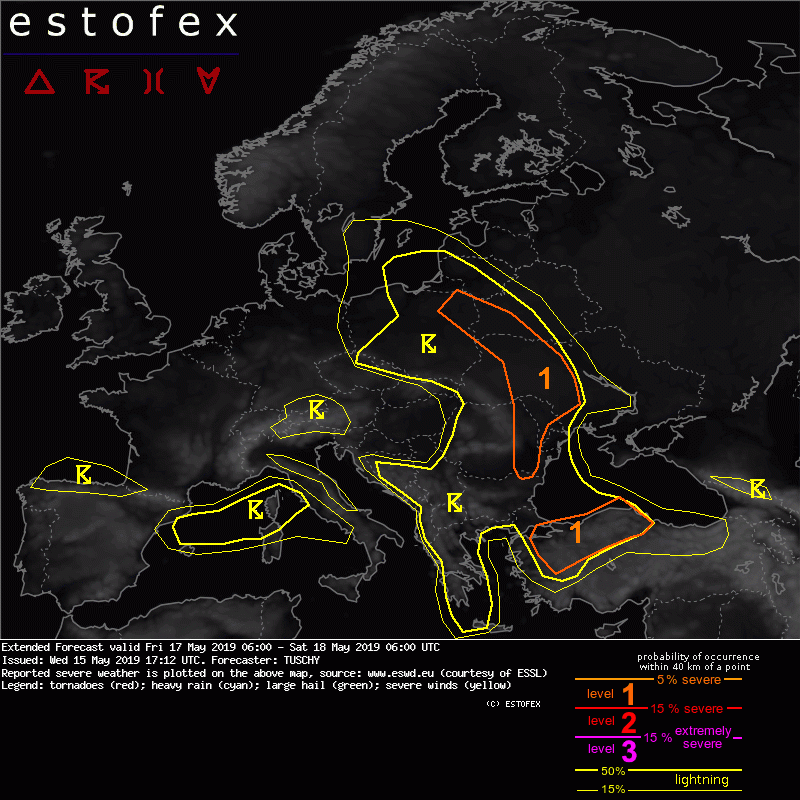 Extended Forecast
Valid: Fri 17 May 2019 06:00 to Sat 18 May 2019 06:00 UTC
Issued: Wed 15 May 2019 17:12
Forecaster: TUSCHY
A level 1 was issued across NW/N-Turkey mainly for large to very large hail and severe wind gusts.

A level 1 was issued for E Romania, Moldova, parts of the Ukraine, SW Belarus and NE Poland mainly for large hail and isolated severe wind gusts. Locally excessive rain is possible.

SYNOPSIS

Ongoing low-index pattern features low geopotential heights over W/CNTRL-Europe with downstream ridging affecting E/NE-Europe. Numerous low-amplitude waves circle that pool of lowered thickness values and affect the Mediterranean and surroundings.

A wavy frontal boundary turns more into a northward surging warm front over the Ukraine into Belarus with a moist and unstable air mass to its south. DMC is forecast along and south of this front. Otherwise regionally enhanced thunderstorm activities result from passing synoptic-scale mid-/upper-level waves.


DISCUSSION

...NE Poland, SW-Belraus, Ukraine to E-Romania ...

A northwestward moving flat upper trough interacts with the warm front and assists in scattered thunderstorms during most of the day from NE-Poland to Belarus. MCLAPE in the 400-800 J/kg range and mostly weak DLS support strong to isolated severe thunderstorms with isolated large hail over SW-Belarus.
Stronger DLS due to a passing mid-level 20 m/s speed maximum intersects NW-ward surging plume of unstable air over E-/NE Poland. For now only NE-Poland was upgraded to a level 1 as synoptic-scale forcing exits rapidly to the NW with NE Poland the most probable area for CI. Long/straight hodographs indicate a chance for a few organized multicells/isolated supercells with large hail.

Towards the Ukraine, Moldova and E-Romania, synoptic-scale subsidence and weak capping should preclude CI for most of the daytime hours. If a local storm manages to form due to mesoscale/orographic influences, up to 2000 J/kg MLCAPE and weak shear would support a large hail and isolated severe downburst threat.
During the night the risk for scattered thunderstorms increases with falling mid-level heights and numerous elevated thunderstorm clusters are forecast to move north. Effective shear should be weak to modest and hence an isolated large hail risk will be the main hazard. This risk lasts well into the night over the Ukraine and Moldova due to better elevated CAPE. Slow moving clusters also pose an isolated excessive rainfall threat. We issued a broad level 1 for this overnight risk.

... NW/N-Turkey ...

Constantly improving BL air mass with LL mixing ratios in excess of 10 g/kg beneath mid-level lapse rates in excess of 8 K/km cause substantial CAPE build-up in the 1000-2000 J/kg range and up to 3000 J/kg over far N-CNTRL Turkey. This kind of instability overlapping with a brisk S/SE-erly flow regime (15-20 m/s DLS) result in severe supercells with large to very large hail and severe wind gusts. This area may need an upgrade to a hail-driven level 2, if further model data confirms the rather aggressive trend with CI.

... S-Balkan States ...

Scattered to widespread CI beneath an upper trough occurs with slow moving thunderstorm activity forecast. Up to 800 J/kg MLCAPE but weak shear preclude organized convection. Nevertheless a few hail and heavy rainfall events are possible and a potential level 1 upgrade may be needed. Right now limiting foci for an enhanced rainfall and hail risk preclude an upgrade.

... Lightning areas ...

Limited CAPE and shear preclude organized convection with gusty winds and graupel the main hazard.