Storm Forecast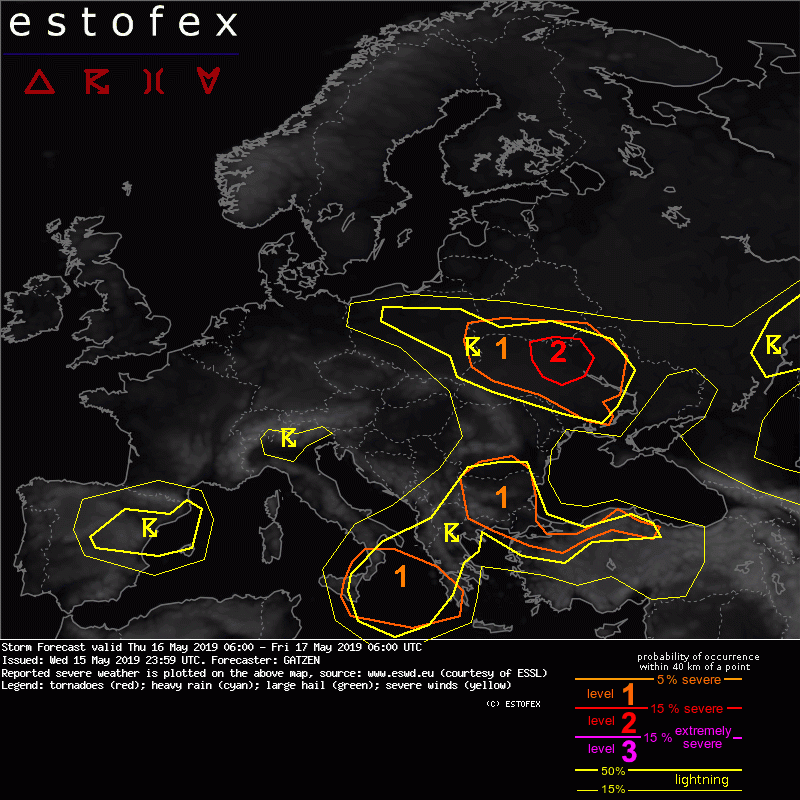 Storm Forecast
Valid: Thu 16 May 2019 06:00 to Fri 17 May 2019 06:00 UTC
Issued: Wed 15 May 2019 23:59
Forecaster: GATZEN
A level 2 was issued across parts of the N-Ukraine and far S Belarus mainly for large to very large hail, severe wind gusts, tornadoes and excessive rain.

A level 1 surrounds the level 2 for similar hazards with lower probabilities.

A level 1 was issued across S-Romania, Bulgaria into S Greece mainly for large hail, severe wind gusts and an isolated tornado.

A level 1 was issued across N-Turkey mainly for large to isolated very large hail.

A level 1 was issued across Sicily, S Italy and surroundings mainly for severe wind gusts, isolated large hail and a tornado risk.

SYNOPSIS

An intense closed trough is present across central and southern Europe, associated with unseasonably cool weather across the central Mediterranean. The southern edge of the trough moves rapidly east from Sicily to Greece. Downstream, a short-wave trough becomes negatively tilted and crosses Bulgaria, Romania and the western Ukraine. It affects a broad warm air advection regime where chances for thunderstorms continue to increase. Across western Europe, a short-wave trough enters the European trough as north-European blocking goes on.


DISCUSSION

Ukraine to S-Belarus

The area is affected by ongoing warm air advection through-out the period. Thunderstorms have already developed but are expected to weaken during the night. Their remaining should exit the area to the north with some diabatic heating on Thursday. Given moisture transport with easterly low-level flow with low-level mixing ratio up to 10 g/kg, CAPE is likely to reach 500-1000 J/kg during the day although lapse rates are relatively weak. Thunderstorms are expected to form in the noon and afternoon. Near the frontal boundary across the western Ukraine, skinny CAPE profiles support a risk of excessive precipitation, especially late in the period when increasing low-level flow may be associated with back-building storm clusters. The thunderstorm cluster shifts into Belarus during the night with an ongoing heavy to isolated excessive rainfall threat. Farther east, higher CAPE also in the hail growth layer in combination with moderate to strong deep layer vertical wind shear around 20 m/s is expected to support supercells capable of large or very large hail. Tornadoes are not ruled out as well as severe wind gusts.

E-Romania, E-/CNTRL-Bulgaria to N-Greece

Along a frontal boundary within the warm air advection regime, new storms are expected during the day. Especially Romania will be rather cloudy in the morning, limiting CAPE increase and chances of severe storms. Farther south, larger CAPE is expected, together with 15-20 m/s deep-layer shear. Rather straight-line hodographs indicate multicells and splitting supercells the main convective mode, with a chance of severe wind gusts and large hail.

N-Turkey

Steep lapse rates advect northward towards northern Turkey where they overlap with upslope flow of Black Sea moisture, resulting in CAPe up to 1000-2000 J/kg. Initiation is expected over the mountains and isolated to scattered afternoon/evening storms that may produce locally very large hail given 15-20 m/s deep layer vertical wind shear and associated potential for supercells. Additionally, severe wind gusts are possible, in particular in the southern parts of the risk area where inverted-v profiles are present.

Sicily, S-Italy and surroundings

A progressive and well structured upper trough crosses this area from NW to SE/E with strong synoptic-scale forcing. A developing cluster is forecast between S-Sicily and Malta, which moves rapidly E/NE during the forecast. 15-20 m/s 0-3 km shear indicates a severe wind gust risk with that MCS and a broad level 1 was issued. Isolated large hail will be also possible.
The rest of Sicily and S-Italy is placed beneath cold mid-levels and in a weak geopotential height gradient regime, so slow moving convection with hail and heavy rain will be the main hazard. With augmented 0-2 km CAPE and weak background shear/enhanced background vorticity, numerous waterspouts are possible in this region. Hence a broad level 1 was issued for both events.

N-Spain

Another passing trough induces active evening/overnight convection, but weak CAPE/shear should preclude organized DMC activity. Marginal hail and gusty winds will be the main hazard.