Storm Forecast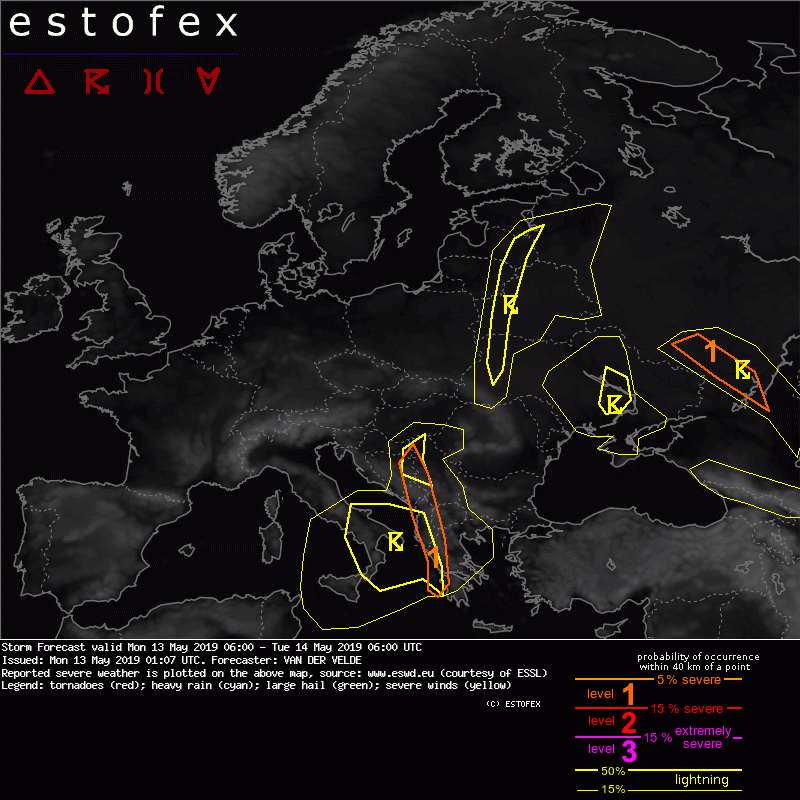 Storm Forecast
Valid: Mon 13 May 2019 06:00 to Tue 14 May 2019 06:00 UTC
Issued: Mon 13 May 2019 01:07
Forecaster: VAN DER VELDE
A level 1 was issued across W Greece, Albania, Montenegro, W Serbia, E Bosnia-Herzegovina, E Croatia, mainly for tornadoes.

A level 1 was issued across W Russia mainly for large hail.

SYNOPSIS

A large high with a 1040+ hPa center near the Netherlands stabilizes the SW to NW half of Europe. A stationary cold low over Italy promotes southeasterly advection of low level warm air into the eastern Balkan. The frontal division lies south to north across the Balkan, bending eastward over Hungary and Romania, and northward along the Poland-Ukraine border into eastern Baltic states. A second, warmer still airmass drifts westward over W Russia.


DISCUSSION

...Balkan...

A persistent trough generates upward motion over a stalled cold front, where modest MLCAPE is found under 20-30 m/s 0-6 km shear, low LCL, and locally strong SREH (>250 m2/s2) and 0-1 km shear (>10 m/s). This may lead to some tornado production by supercells most likely on the Greece/Albania coastline during the afternoon. The area in W Serbia has weaker DLS. Large hail is also possible.


...W Russia...

15-20 m/s DLS overlaps the forward edge of the significant CAPE area moving westward. Expect some supercells with large hail. ECMWF shows this area as capped, but GFS and ICON-EU have low CIN.