Storm Forecast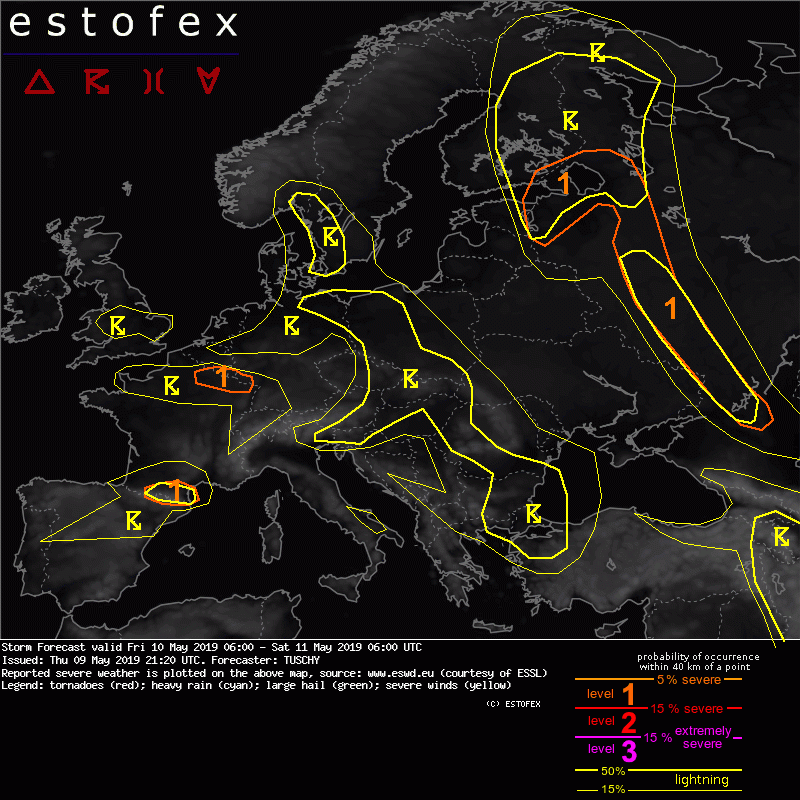 Storm Forecast
Valid: Fri 10 May 2019 06:00 to Sat 11 May 2019 06:00 UTC
Issued: Thu 09 May 2019 21:20
Forecaster: TUSCHY
A level 1 was issued across parts of E France mainly for an isolated tornado.

A level 1 was issued across far S France mainly for large hail and severe wind gusts.

A level 1 was issued across parts of W Russia and surroundings mainly for large hail and severe wind gusts. An isolated tornado threat and excessive rain is also possible.

SYNOPSIS

Deadlocked pattern features persistent negative tilted upper trough over CNTRL and SE Europe with a northward building ridge further downstream over far W Russia into Finland. A wavy synoptic-scale front in-between both features serves as focus for scattered strong to severe thunderstorms during the day. A temporarily more zonal aligned pattern evolves over the Bay of Biscay to Italy before another digging trough approaches NW France from the NW. This feature drives a cold front E/SE over W-France although displaced ingredients keep thunderstorm probs. on the lower-end side.


DISCUSSION

...Great European Plains ...

Extensive and wavy thermal/moisture gradient extends from the Gulf of Finland to the E/SE. This frontal zone is characterized by some overlap of enhanced mid-level lapse rates and ML mixing ratios in excess of 10 g/kg, offering decent MLCAPE in the 500-1000 J/kg range. 15 m/s 0-6 km shear occurs contemporaneous with augmented LL shear along N-ward sliding LL depressions along that frontal zone. First depression opens up during the day which lessens backed LL flow and shear. Second depression evolves S of Moscow and features a new moisture/CAPE surge with more substantial SRH 1 and 3.
Scanning through forecast profiles reveals deep/well mixed BL conditions along/east of the front which assists in cold pool driven and upscale growing convection. Severe wind gusts and large hail are forecast.
Lake Ladoga and east features favorable CAPE/shear profiles for supercells with large hail, severe wind gusts and a tornado threat. Main reason for staying with a level 1 is missing synoptic-scale forcing and hence only isolated CI.

This activity speads N during the night and affects Sweden/Finland. Thunderstorms will be elevated an non-severe.

A more extensive convective cluster likely evolves E of the Ukraine during the afternoon onwards as the second depression lifts N. Hail and severe wind gusts will be the main hazard as LL remain either too warm for surface based CI west of the front or too dry just east of the front. Heavy to isoalted excessive rain will be another hazard.

... Pyrenees ...

Zonal flow regime impacts the Pyrenees with DLS in the 20 m/s range. Forecast hodographs show unidirectional shear, favorable for splitting supercells. Moderate BL moisture beneath augmented lapse rates fanning from the Pyrenees E/NE result in 300-600 J/kg MLCAPE. Thunderstorms, which erupt over the mountains move off the mountains and affect far S France. Splitting storms with rotating updrafts bring isolated large hail and severe wind gusts to the level 1 area before weakening beyond sunset.

... E-France to SW Germany ...

The digging trough drives a cold front over NW France to the SE and stretches out an ill-defined warm sector over E France into SW Germany between 00Z and 06Z. A consolidating LL depression pulls better LL moisture N beneath a diffluent and coler mid-level streamline pattern. Strong forcing and neutral profiles indicate a growing chance for isolated nocturnal thunderstorms along the fringes of the more stratiform WCB/CCB precipitation shield. These thunderstorms ingest near surface based air with lots of SRH, so an isolated tornado event is possible with this activity.

... Lightning areas ...

Rest of the lightning areas see pulsating convection with gusty winds and marginal hail the main hazard. This activity peaks during the afternoon/evening and subsides beyond sunset. Upscale growing convection occurs in 50% lightning areas with heavy rain, marginal hail and strong wind gusts.