Storm Forecast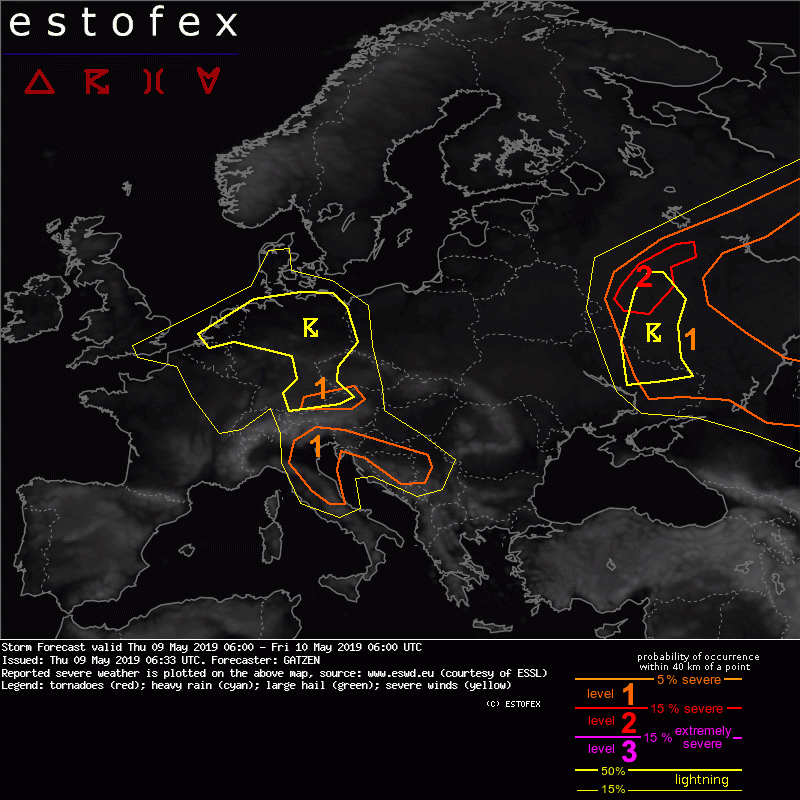 Storm Forecast
Valid: Thu 09 May 2019 06:00 to Fri 10 May 2019 06:00 UTC
Issued: Thu 09 May 2019 06:33
Forecaster: GATZEN
A level 2 was issued across parts of western Russia mainly for excessive precipitation and to a lesser extent tornadoes, severe wind gusts, and large hail.

A level 1 was issued across eastern Ukraine and western Russia mainly for severe wind gusts, large hail, and excessive precipitation. A tornado is not ruled out.

A level 1 was issued across northern Italy and the northern Balkans mainly for large hail and severe wind gusts.

A level 1 was issued across south-eastern Germany into Austria mainly for severe wind gusts.

SYNOPSIS

A strong and weakly undulated mid-level jet stream spreads east across the Mediterranean, reaching the Aegean Sea at the end of the period. An intense vort-max travels at its cyclonically sheared flank across the Balkan Peninsula. It is connected to a west-European trough axis that slowly becomes negatively tilted. Ahead of this trough, a closed mid-level vortex across the Black Sea moves north, with a vort-max rapidly spreading north at its north-eastern flank.

DISCUSSION

Eastern Ukraine into western Russia

A strongly forced synoptic situation is expected today, with a rapidly approaching negatively tilted short-wave trough over the Ukraine that moves into western Russia in the afternoon and evening. A slowly deepening low pressure system is currently located across the eastern Ukraine that will move north-west during the period. East of this low, a warm and moist air mass located over south-western Russia will spread north-west into western Russia. Low-level mixing ratio is expected to be 8 to locally more than 10 g/kg within the warm sector. Furthermore, steep lapse rates across southern Russia will spread north-west together with the low-level moisture.

Latest satellite imagery indicates weakening thunderstorms along the warm front across western Russia and ahead of the cold front across the eastern Ukraine. In the warm sector, sunshine is likely during the next hours, and MLCAPE is forecast to increase to more than 1000 J/kg with weak CIN over most placed. Convection initiation is expected from noon into the evening along the cold front, with increasing storm coverage also in the warm sector and some storms possible along the warm front as well.

Main limiting factor for organized storms is relatively weak deep layer vertical wind shear within the warm sector across western Russia, with 10 to locally 15 m/s. Long-lived supercells are not likely and storms may form multicell clusters shortly after initiation. Main threat will be excessive precipitation with the storms clusters. Additionally, large hail is possible with mature storms. Storm coverage will decrease farther east of the cold front, but local storms that form may produce severe downbursts due to a well-mixed, deep boundary layer. Along the frontal boundary across the eastern Ukraine and extreme western Russia, overlap of CAPE with stronger deep layer shear of 20 m/s and rather straight-line hodographs will allow for multicells and splitting storms. With the shear vector almost parallel to the frontal boundary, clusters of storms are expected with a threat of excessive precipitation and severe wind gusts. Tornadoes and large hail are not ruled out.

In the afternoon and evening, a low-level jet evolves ahead of the frontal boundary that increases low-level shear across western Russia. Latest forecasts indicate the potential of strongly curved low-level hodographs along the warm front that spreads north. With low LFCs due to rich moisture and steep low-level lapse rates spreading north, favourable conditions for tornadoes are forecast. A few tornadoes are forecast, with one or two strong events possible. Main limiting factor is the lack of deep layer vertical wind shear and storms will form relatively weakly organized clusters with an ongoing threat of excessive rain and local hail and wind events.

Northern Italy and Balkans

Some weak CAPE will develop in a strongly-sheared environment as the mid-level vort-max travels east. This will allow for isolated supercells capable of producing large or very large hail and severe wind gusts. Storms will decay in the evening hours when the vort-max moves eastward.

Northern and eastern Alps

Weak CAPE will also form north of the Alps by the time the vort-max spreads east. Thunderstorms will develop across Germany and move into Poland and Austria. Main potential of severe is expected close to the Alps with stronger 0-3 km vertical wind shear around 15 m/s. Storms may merge along lines capable of producing severe wind gusts locally.