Storm Forecast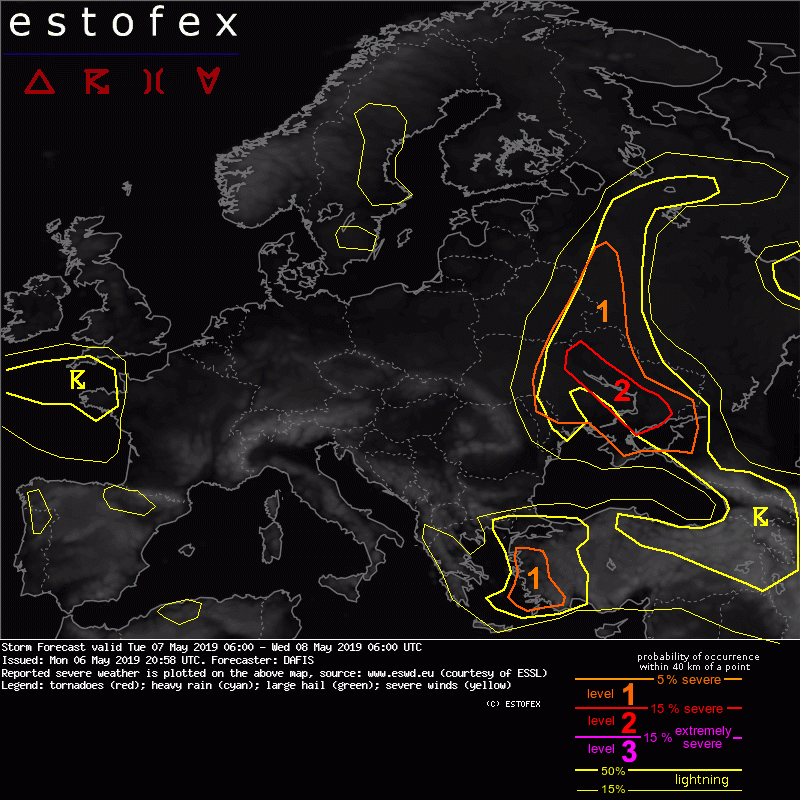 Storm Forecast
Valid: Tue 07 May 2019 06:00 to Wed 08 May 2019 06:00 UTC
Issued: Mon 06 May 2019 20:58
Forecaster: DAFIS
A level 2 was issued for Ukraine and SW Russia mainly for tornadoes, severe wind gusts and large hail.

A level 1 was issued for parts of Ukraine, Moldova, SE Belarus and SW Russia for large hail, severe wind gusts and tornadoes.

A level 1 was issued for SW Turkey and SE Greece for large hail.

SYNOPSIS

An unseasonably cold air mass of arctic origin has reached the Mediterranean through a long-wave trough. The southern flank has now formed a cut-off low over the Adriatic Sea and strong baroclinicity in Central Mediterranean creates a jet-stream with wind speeds up to 40-45 m/s at 500 m/s. The cold drop is forecast to cross the Balkans and the strong southerly flow over the Black Sea will bring warm and moist air masses to NE Balkans and Russia, where we expect the most favourable thermodynamic conditions for DMC on Tuesday 7 May 2019.

Over Scandinavia, a strong PVA can be found in analysis maps and in addition, diurnal heating will provide lift to unstable air masses and some thunderstorms may form in the afternoon. More to the west, an Atlantic low is approaching associated with a short-wave trough and some storms are forecast on the cold front, ahead of the low. Gale-force wind gusts will affect the west coasts of Ireland, UK and France but mostly non-convective.

DISCUSSION

.... Ukraine, Moldova and SW Russia .....

A strong southerly flow has been established east on the corridor between the cold air mass in the Balkans and the warm and moist air masses in Ukraine and Russia. The Black Sea further enhances with moisture this region and strong surface fluxes along with upper air dynamics, create a favourable environment for severe weather events. Inside the level-2 area GFS builds 1.5-2 kJ/kg MLCAPE overlapping with 10-15 m/s DLS and high values of low and mid-level helicity showing the potential of supercells in the afternoon of Tuesday. Moreover, low-level shear, high SREH0-1km and low LCLs increase the probability of tornadogenesis. On the western flank of level 2 and inside level 1 in Ukraine and Moldova large hail is well possible because GFS and IFS show high values of NCAPE overlapping with 15 m/s DLS. Finally, severe wind gusts will accompany these storms creating deep cold pools.

.... SW Turkey and Greece ....

A local overlap of high NCAPE and strong DLS at the leading edge of the trough increase the probability of some well-organized thunderstorms to produce large hail. High mid-level lapse rates and high theta-e values also show the potential of severe storms. Under the cold core of the cut-off over the Aegean Sea, waterspouts may form near the coasts.