Storm Forecast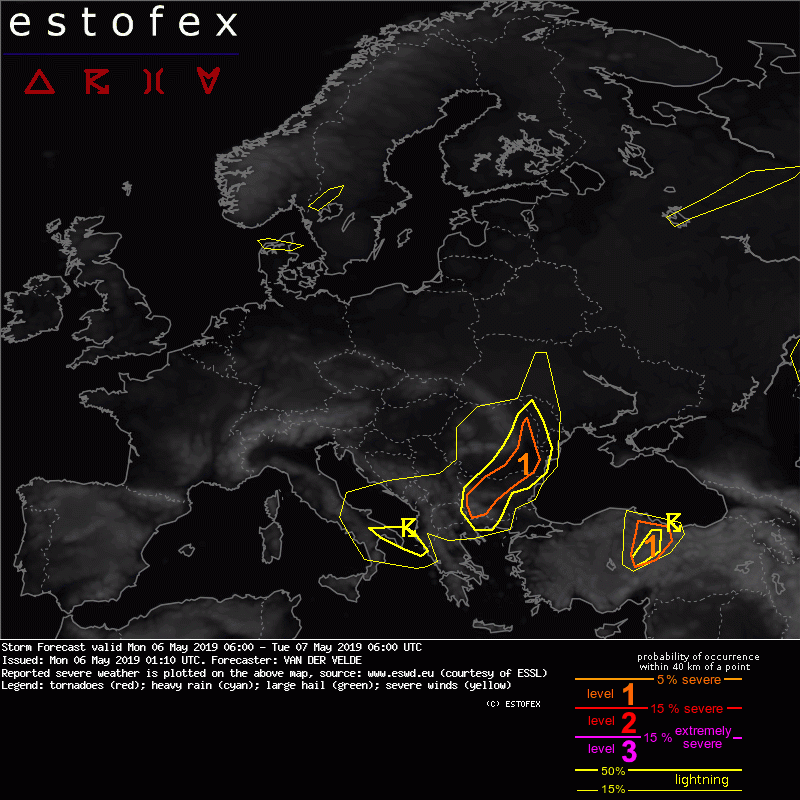 Storm Forecast
Valid: Mon 06 May 2019 06:00 to Tue 07 May 2019 06:00 UTC
Issued: Mon 06 May 2019 01:10
Forecaster: VAN DER VELDE
A level 1 was issued across N/W Bulgaria and S/E Romania mainly for large hail.

A level 1 was issued across N central Turkey mainly for large hail.

SYNOPSIS

Two large scale lows affect southern Scandinavia and southeastern Europe, respectively. Cold upper air and DCVA around their centers will produce convection over Denmark and southern Sweden, as well as southern Italy and western Balkan.

DISCUSSION

...Bulgaria, Romania...

The southeastern Europe low has advected warm air northward across eastern Greece, Bulgaria and Romania, helping generate somewhat more substantial MLCAPE (>500 J/kg) with the southerly jetstream producing 15-20 m/s 0-6 km shear. The lower level veering is lacking. A PV gradient (GFS model) is advected eastward across Bulgaria in the morning, acquiring a negative tilt and moving into SE Romania in the afternoon, likely triggering widespread convection. The convective mode across N Bulgaria and S Romania may include split cells with some updraft rotation but likely developing into clusters or a linear system. Some cells likely will produce large hail.

...Turkey...

Large hail is also possible in N central Turkey, where higher cloud base of 2000 m with somewhat enhanced DLS of 10 m/s and steep mid level lapse rates should support isolated events, if convective initiation indeed happens. There is no clear lifting mechanism, perhaps a sort of dryline coming in from the west. CIN is weak at least in GFS but ECMWF CAPE more marginal.