Storm Forecast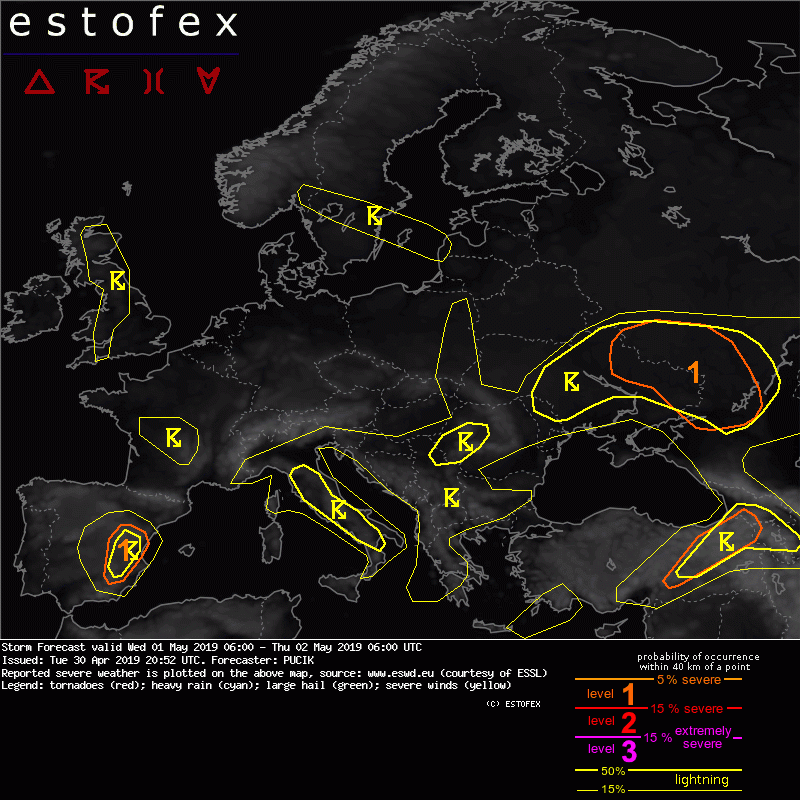 Storm Forecast
Valid: Wed 01 May 2019 06:00 to Thu 02 May 2019 06:00 UTC
Issued: Tue 30 Apr 2019 20:52
Forecaster: PUCIK
A level 1 was issued across eastern Spain mainly for large hail and to the lesser degree for severe wind gusts.

A level 1 was issued across eastern Ukraine and southwestern Russia mainly for large hail, severe wind gusts and to the lesser degree for tornadoes.

A level 1 was issued across eastern Turkey mainly for large hail and severe wind gusts.


SYNOPSIS

A complex synoptic-scale pattern is forecast over Europe with numerous lows / short-wave troughs at the mid to upper troposphere. The most prominent feature will be a pool of low geopotentials over southeastern Europe, split into several separate centers over Italy, Bulgaria, eastern Poland and Ukraine. The latter will progress quickly eastwards, accompanied by severe weather risk discussed below. On the eastern flank of the pool, strong southwesterly flow reaching up to 25 m/s at 500 hPa is simulated. To the west, a cyclonic vortex will reside over the Atlantic, undergoing an split, with a separate center progressing towards France by Thursday morning.

With 6.5 - 7 K/km lapse rates, generated by cold mid-tropospheric airmass, overspreading modestly moist airmass, isolated to scattered thunderstorms are forecast over much of southeastern Europe.

DISCUSSION

... Eastern Spain ...

NWP is consistent in weak easterly flow ovespread by westerly flow in mid to upper troposphere, resulting in 12.5 to 17.5 m/s of DLS, supportive of multicells and marginal supercells. Isolated to scattered convection will form in weak upslope flow over the local terrain and stronger updrafts in up to 1000 J/kg of MLCAPE will be capable of large hail. Threat of severe wind gusts will be somewhat diminished by the lack of deep and dry boundary layer over the area, more typical for the region during the summer months.

... Eastern Ukraine to southeastern Russia ...

As the cyclonic vortex at mid to upper troposphere progresses eastward, the lower tropospheric convergence zone will reach eastern Ukraine by Wednesday 12 UTC. With moist airmass and modest lapse-rates, MLCAPE values ranging from 500 to 1500 J/kg are simulated in a belt from eastern Ukraine towards the Caucasus mountains. Scattered to widespread initiation is expected over the northwestern half of Lvl 1, where a considerable synoptic-scale lift in the left exit region of the jet will ovespread the region. A level 2 was considered for parts of the area, but was not issued due to the uncertainties regarding the presence of the lingerning cloudiness from overnight and morning convection. Initiation may be more isolated towards southeast.

Forecast hodographs suggest DLS around 20 m/s, supportive of supercells and well-organised line segments. Large hail and severe wind gusts will be possible with stronger cells. Low LCLs and SRH around 100 m2/s2 in the 0-1 km over parts of eastern Ukraine suggest an elevated threat of tornado if convection can persist in isolated form.

... Eastern Turkey ...

Diurnally driven thunderstorms will form in the early afternoon hours over the region, underneath 15 m/s of southwesterly flow at the mid-troposphere. Combination of steep lapse rates with organised convective storms thanks to moderate vertical wind shear should suffice for at least isolated large hail and severe wind gust events.