Storm Forecast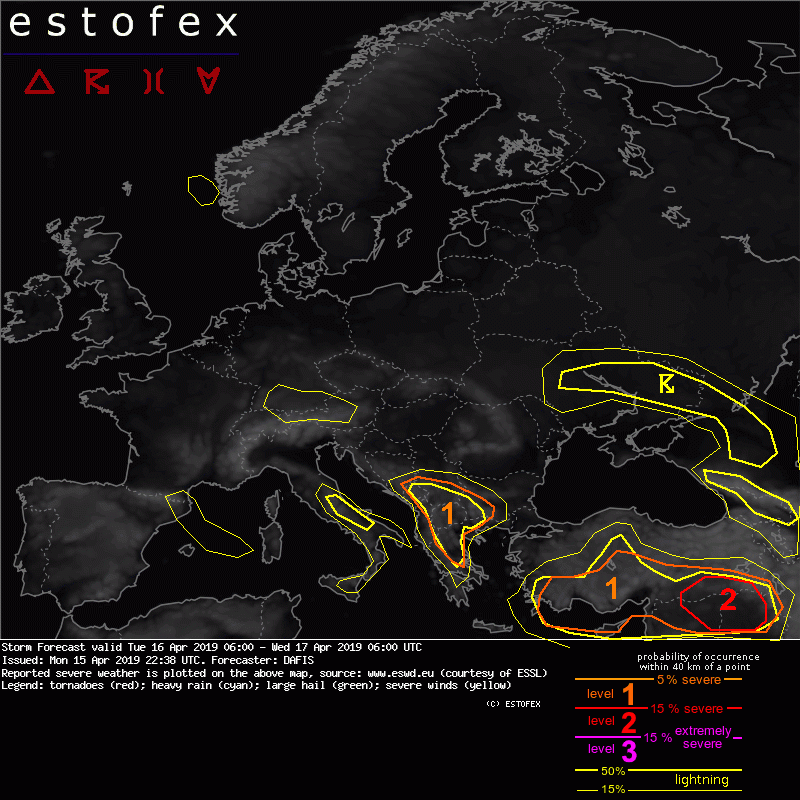 Storm Forecast
Valid: Tue 16 Apr 2019 06:00 to Wed 17 Apr 2019 06:00 UTC
Issued: Mon 15 Apr 2019 22:38
Forecaster: DAFIS
A level 2 was issued for parts of Turkey, Syria and Iraq for large hail, excessive precipitation and severe convective wind gusts.

A level 1 was issued for Turkey, Cyprus, Syria and Iraq for large hail, severe wind gusts and tornadoes.

A level 1 was issued for the Balkans mainly for excessive precipitation / large amounts of small hail.

SYNOPSIS

While northern and western Europe are under the influence of ridges, SE Europe and Middle-East experience lots of thunderstorms. Many short-wave troughs can be found over the Balkans, with the most important further south in the S Aegean Sea which is quickly travelling east during Tuesday 16/04. Another short-wave trough (seems like a CDT disturbance) is found over the Baltic States and it is about to exit to the North Sea by the afternoon of Tuesday. Finally, a long-wave trough is approaching the Iberian Peninsula but it will not reach the coasts of Portugal before the end-time of this outlook.


DISCUSSION

.... SE Turkey, Syria and Iraq ....

Strong synoptic lift is forecast in the East Mediterranean where a short-wave trough will bring positive PV anomalies. The overlap of 500-800 J/kg CAPE and 20-35 m/s DLS, as well as the low-level helicity, suggest that MCSs will form in the afternoon and some supercells will be able to produce all kinds of severe weather, mainly large hail (2-3 cm) and severe wind gusts. Moreover, waterspouts are expected near the coasts of Turkey, Cyprus and Syria under the core of the middle-level low.

... Balkans ....

Low geopotentials are once again found over the South Balkans, where moisture pooling and steep mid-level lapse rates will create some hundreds of CAPE. The diurnally driven storms will develop in a weakly sheared environment and with weak storm motions, we expect to produce locally large amounts of small hail in Greece, Albania, North Macedonia, W Bulgaria and Serbia given the low wet-bulb temperatures. Storm activity should stop after sunset.