Storm Forecast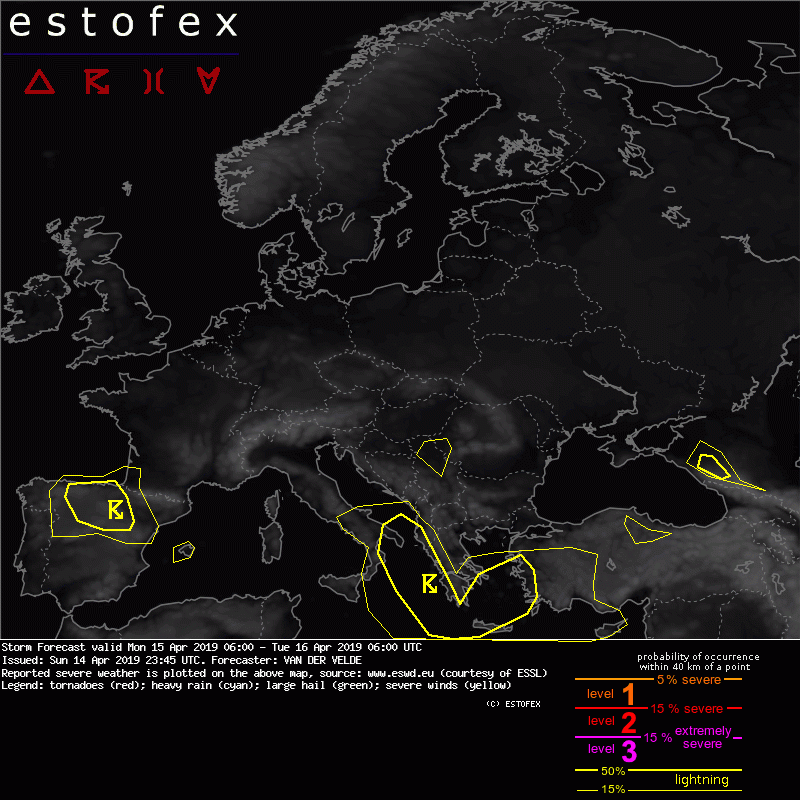 Storm Forecast
Valid: Mon 15 Apr 2019 06:00 to Tue 16 Apr 2019 06:00 UTC
Issued: Sun 14 Apr 2019 23:45
Forecaster: VAN DER VELDE
No threat levels issued.

SYNOPSIS / DISCUSSION

A large high controls northern Europe. An Atlantic trough enters the Iberian Peninsula, with warm air surging northward. Some MLCAPE develops over N Spain, where up to 15 m/s DLS without much SREH will be present. The low CAPE limits the large hail potential, though. Meanwhile, lows affect eastern Italy to southern Russia. Cold upper air generates steep lapse rates with several hundred J/kg MLCAPE mostly over Tyrrhenian and Aegean Sea, but under weak vertical shear. Favorable shear on the east side of the Black Sea may organize storm rotation, but also here the CAPE is too marginal for significant potential.