Storm Forecast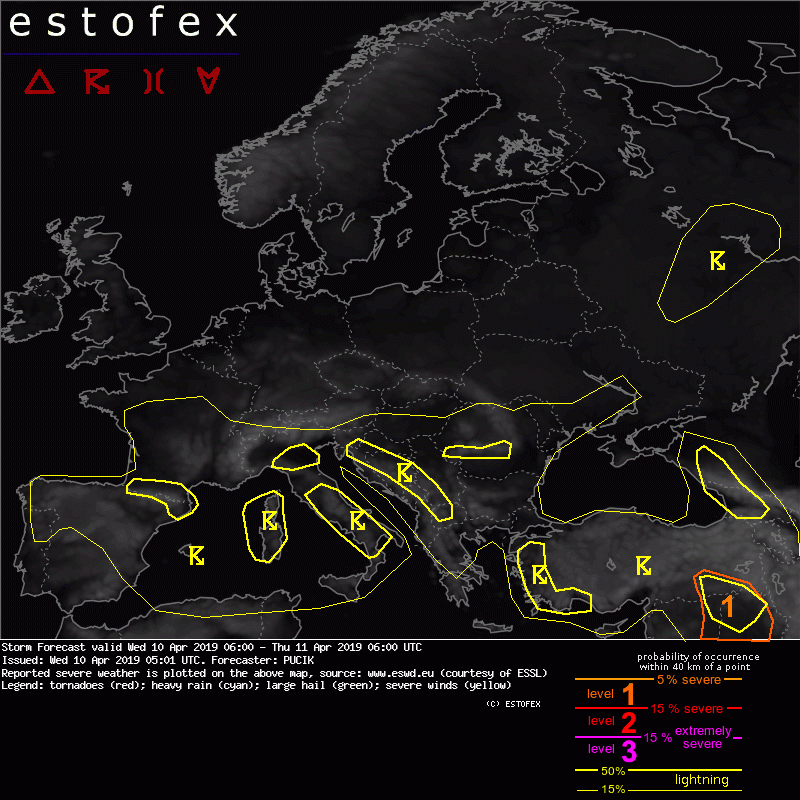 Storm Forecast
Valid: Wed 10 Apr 2019 06:00 to Thu 11 Apr 2019 06:00 UTC
Issued: Wed 10 Apr 2019 05:01
Forecaster: PUCIK
A level 1 was issued across extreme E Syria, Iraq and extreme SE Syria mainly for large hail and severe wind gusts.

SYNOPSIS

At mid to upper troposphere, the synoptic-scale setup is dominated by three separate cyclonic vortices. The first one resides over Scandinavia, overtopping arctic airmass that is forecast to spread into parts of central and eastern Europe. Another vortex will reside over northern Spain and the western Mediterranean, slowly progressing towards Italy. A strong westerly flow will be confined to its base, stretching towards the base of another cyclonic vortex, centered over the Black Sea, with a trough crossing southern Turkey.

Closer to the surface, a pronounced frontal boundary will stretch from Germany, across the Czech Republic, Austria, Slovakia and Poland into Ukraine, Belarus and Russia. This frontal boundary separates the dry, artic airmass from modified airmass with modest lower tropospheric moisture. The arctic airmass will spread soutward over central Europe with frontogenetical process southeast and east of the Alps.

Isolated to scattered thunderstorms are forecast over a vast part of southern Europe in the environment of modest lower tropospheric moisture and lapse rates of around 6.5 K/km. While several areas may encounter high coverage of thunderstorms, CAPE values limited to several hundreds J/kg, combined with rather weak vertical wind shear will preclude any signifcant severe weather risk, perhaps apart from a local marginally severe hail event.

DISCUSSION

... E Syria, Iraq, SE Turkey ...

NWP seems to be in disagreement regarding the degree of CAPE, hodograph shape, as well as the location of convective initiation, precluding Level 2 issuance at the moment. Nevertheless, as 0-6 km bulk shear exceeds 15 m/s over the region, well organised multi or even supercells are forecast capable of severe wind gusts and also large hail in the environment of CAPE values ranging from 1 to 2k J/kg. The coverage of severe should easily warrant a Lvl 1.