Storm Forecast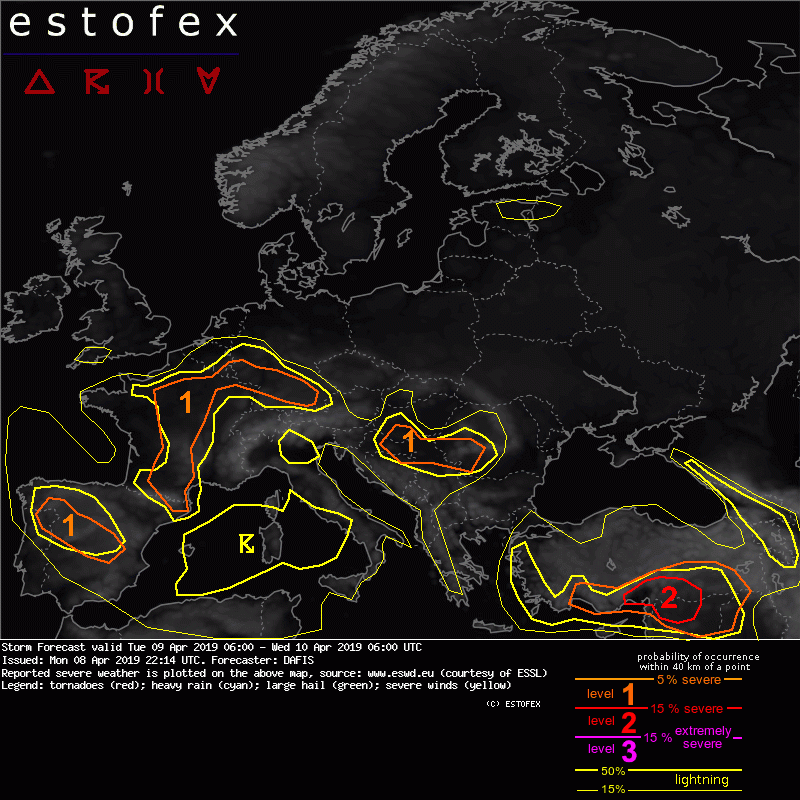 Storm Forecast
Valid: Tue 09 Apr 2019 06:00 to Wed 10 Apr 2019 06:00 UTC
Issued: Mon 08 Apr 2019 22:14
Forecaster: DAFIS
A level 2 was issued for parts of SE Turkey and Syria for large hail, severe wind gusts and tornadoes.

A level 1 was issued for Turkey, Syria and NW Iraq mainly for large hail and severe wind gusts.

A level 1 was issued for parts of N Serbia, W Romania, E Croatia, S Hungary, and E Bosnia and Herzegovina mainly for excessive precipitation and locally severe wind gusts.

A level 1 was issued for France, S Belgium, Luxemburg, Germany and NE Spain mainly for excessive precipitation.

A level 1 was issued for parts of Portugal and Spain for large hail and severe convective wind gusts.

SYNOPSIS

A broad area of low geopotentials over Europe with 3 main troughs modulate the weather pattern the past few days and will continue to do so during this outlook. The anticyclone in the Norwegian Sea remains strong and blocks the flow of the Atlantic cyclones to North Europe. Two cut-off lows over the Gulf of Biscay and the Aegean Sea will create a favourable environment for numerous storms. In general, strong instability will not overlap with impressive moisture values or wind shear, except the Middle East where all kinds of severe weather are expected.

DISCUSSION

.... SE Turkey and Syria ....

A strong southwesterly flow that has been established in East Mediterranean due to a low-pressure system over Greece which is propagating more to the east, brings warm and moist air masses in Turkey and Syria. Strong synoptic lift is forecast but also orographic lifting near the coasts. The overlap of 800-1200 J/kg CAPE and 20-30 m/s, as well as the low-level helicity, suggest that MCSs will form in the afternoon and some supercells will be able to produce all kinds of severe weather, mainly large hail (2-3 cm) and severe wind gusts. Low-level looped forecast hodographs and low LCLs increase the probability of tornadogenesis in SE Turkey and W Syria. Moreover, waterspouts may form in the cold sector of the front in the late afternoon in S Turkey when the winds will weaken rapidly.

.... North Balkans ....

Warm and moist air masses have been trapped between Hungary, Romania and Serbia with dew points over 11-12oC even during the writing of this outlook (Mon 23z). High PWAT values in the order of 25 mm and weak storm motion vectors suggest that the diurnally driven convective cells may produce excessive precipitation. Several storms will develop in the afternoon but we don't expect them to cluster. Some microbursts may form and will produce severe convective wind gusts as forecast soundings show skinny CAPE profiles, weak winds in the whole atmospheric column and dry masses below 850 hPa.

.... France, S Belgium, Luxemburg, Germany and NE Spain ....

Also in western Europe thermodynamics do not look impressive for severe thunderstorms but the weak wind speeds, skinny CAPE profiles and high PWAT values (>20 mm) increase the threat for locally excessive precipitation events by stationary storms. The storms will be driven by diurnal heating and should stop during the early night of Tuesday.

.... Portugal and Spain ....

A cold front is about to cross Portugal and Spain where unstable air masses lie under the jet stream. Large scale lift and 400 - 800 J/kg CAPE in the forecast maps show a favourable environment for thunderstorms. Steep middle/low-level lapse rates keep CAPE below 600 hPa and strong downdrafts can result in severe wind gusts at the surface. Moreover, strong DLS increase the probability for some well-organized storm cells to produce locally large hail.