Storm Forecast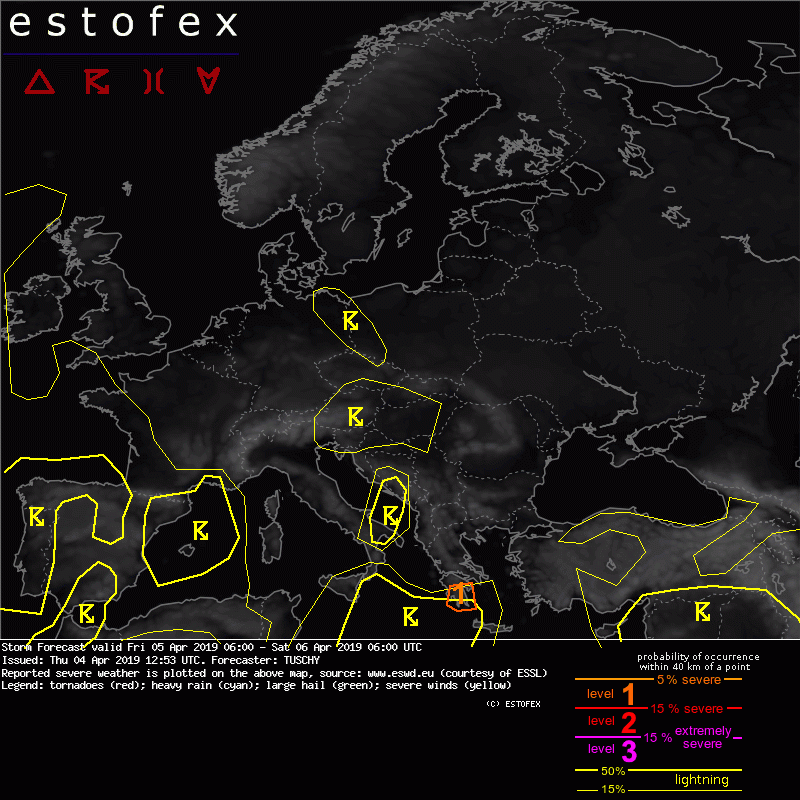 Storm Forecast
Valid: Fri 05 Apr 2019 06:00 to Sat 06 Apr 2019 06:00 UTC
Issued: Thu 04 Apr 2019 12:53
Forecaster: TUSCHY
A level 1 was issued across S-Greece for excessive rain and an isolated tornado.


SYNOPSIS

A dissolved steering flow pattern results in numerous closed upper lows, which drift in various directions over Europe. One evolves over S Sweden/Norway and drifts to the NW towards the Norwegian Sea. A second one sits just east of the Ukraine and remains more or less on site. A third one emerges from the far N Adriatic Sea and lifts NE towards E Austria and W Slovakia. The fourth is the most pronounced one and encompasses most of the Bay of Biscay and the Iberian Peninsula. Numerous embedded vorticity maxima circle that feature. A fith cyclonic vortex consolidates south of Sicily while drifting to the ENE. Finally a sharp upper trough impacts far SE Europe.

Interaction of vortex 3 and 5 with an extensive, wavy ad N/S aligned baroclinic/moisture zone result in falling surface pressure with the strongest pressure decrease noted E of Malta/S of Sicily.


DISCUSSION

...S-CNTRL Mediterranean ...

Decoupling of a progressive subtropical ridge from the evolving deep cyclonic vortex causes a weakening/southward displacement of strongest mid-level winds and shear. In addition displaced mid/LL thermal ridge axes cause a rapid decay of lapse rates. Ample synoptic-scale and mesoscale lift result in ongoing and continually developing thunderstorms S of S-Italy and over the Ionian Sea. Clustering storms bring excessive rain to offshore regions and to orographically favored areas over far S - Italy. An isolated tornado event around noon/early afternoon is possible with temporarily better SRH-1.
During the night the approaching LL vortex creates favorable conditions for excessive rain over S Greece due to the following reasons:

a) Prolonged period of isentropic lift ahead of the approaching vortex
b) A strengthening S-erly flow regime beyond 00Z with elonagted/curved LL hodograph structures and weakening winds above indicative of temporal back-building thunderstorms
c) A potential shallow/asymmetric warm-score structure with a strong LL ageostrophic response, also increasing chances for better moisture advection into ongoing and newly developing convection.
Weak LL lapse rates preclude an augmented tornado risk, although an isolated event along the coasts can't be excluded.

... Rest of the lightning areas ...

Rather cold low/mid tropospheric conditions may augment an graupel/hail risk with mostly diurnal driven convection, but the general coverage remains too sparse for a level area. A borderline event is anticipated over NW and N-CNTRL Spain, where DLS regionally exceeds 15 m/s with modest SBCAPE. Would not be surprised about an isolated large hail event in these spots, but model discrepancies remain too large for upgrading a certain/confined area.