Storm Forecast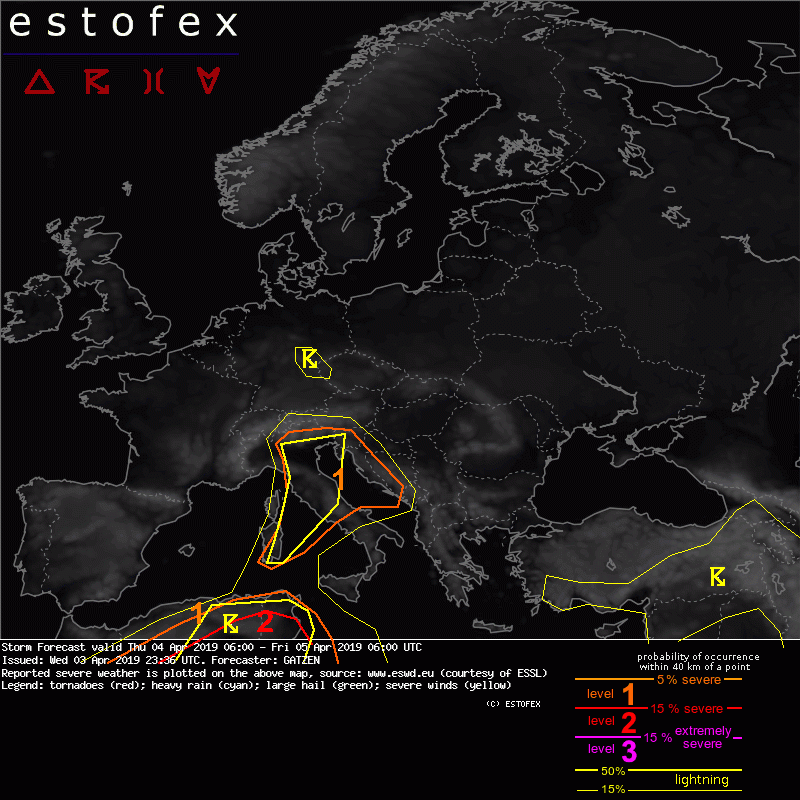 Storm Forecast
Valid: Thu 04 Apr 2019 06:00 to Fri 05 Apr 2019 06:00 UTC
Issued: Wed 03 Apr 2019 23:36
Forecaster: GATZEN
A level 2 was issued for parts of northern Algeria and Tunisia mainly for severe wind gusts and to a lesser extent large or very large hail and excessive precipiation.

A level 1 was issued for northern and central Italy and the Ligurian Sea and surroundings mainly for excessive precipitation, large hail, severe wind gusts, and tornadoes.

SYNOPSIS

High-over-low blocking is present across western Europe, with a closed trough centred across the British Isles. The center of this trough will propagate westward due to a new vort-max entering the system from the west. At the same time, another vort-max cuts off at the eastern flank and moves into the central Mediterranean. Finally, a deep trough present at the south-western flank will move across northern Africa. This is associated with an unusual strong subtropical jet that affects parts of northern Africa.

DISCUSSION

Northern Algeria and Tunisia

Relatively moist air masses are present over northern Africa, partly advected from the south-west along a frontal boundary ahead of the approaching short-wave trough. Lapse rates are limited but will recover during the period due to diurnal heating over the central and southern portions of Algeria and Tunisia ahead of the frontal boundary. Lapse rate advection with south-westerly flow will allow an overlap with the moisture and CAPE in the order of 500 J/kg is forecast.

Storms will again initiate over the Atlas mountains during the day. With strong QG forcing, storms will likely spread east or south-east in the afternoon and evening. Very strong deep layer vertical wind shear will support well-organized storms, and splitting storms are expected that may cluster and could result in one or two squall lines in the evening hours ahead of an approaching cold front. Given inverted-v profiles, potential of severe wind gusts and associated dust storms is quite high, and a derecho may result. Additionally, large or very large hail is forecast with supercells and local flash flooding is possible.

Northern Italy, Ligurian Sea, and surroundings

An intense vort-max ejects from the west-European trough and moves into Italy, where it cuts off in the evening and night. With southerly flow, a moist and slightly unstable air mass is advected into northern Italy ahead of a cold front. Showers and thunderstorms are expected to develop along and ahead of the cold front. Given skinny CAPE profiles and relatively rich moisture, excessive precipitation is forecast, in particular along the southern slopes of the Alps, where the precipitation will be partly of stratiform nature. Farther south, thunderstorms are likely. Given strong vertical wind shear and little CAPE, small bowing lines and supercells are forecast, capable of producing heavy rain, large hail, severe wind gusts, and tornadoes. The overall threat is limited due to the weak CAPE.