Storm Forecast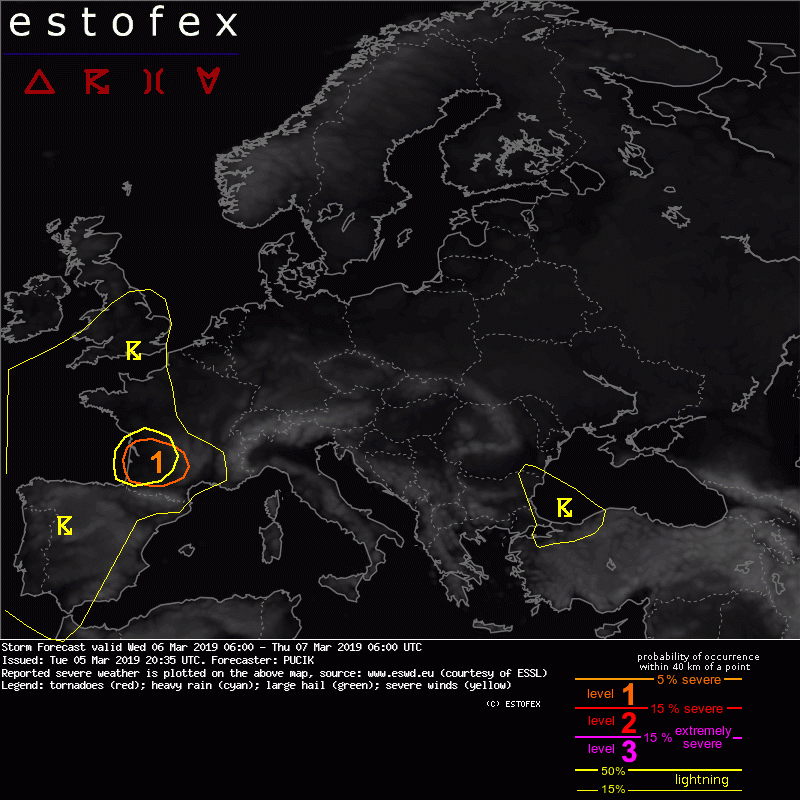 Storm Forecast
Valid: Wed 06 Mar 2019 06:00 to Thu 07 Mar 2019 06:00 UTC
Issued: Tue 05 Mar 2019 20:35
Forecaster: PUCIK
A level 1 was issued across Southwestern France mainly for severe wind gusts and tornadoes.

SYNOPSIS

An active weather pattern will continue over much of Europe in disturbed zonal flow. As of Wednesday 12 UTC, a deep trough at mid to upper troposphere will stretch from the W UK into W Iberia with strong SW-ly jet on its forward flank. A ridge will cover much of Italy and Germany and another trough will be located over Moldova and NE Romania.

The western trough will eject NE-ward towards France, BENELUX and W Germany. An extensive warm sector ahead of the frontal boundary is forecast from Spain towards the UK with mixing ratios of 7 - 8 g/kg and lapse rates up to 7 K/km in low to mid-troposphere. This combination may result in marginal CAPE and isolated to scattered thunderstorms are forecast across a large area.

The eastern trough will shift towards Turkey with very steep lapse rates up to 8 K/km. Low-topped thunderstorms will be possible, particularly towards the N coastline of Turkey as cold airmass is modified by its fetch across the Black Sea.

DISCUSSION

... Southwestern France ...

Strongly sheared warm sector is simulated by NWP ahead of the advancing cold front that will make its way across the area in the 18 - 21 UTC time range. High values of SRH will develop ahead of the pre-frontal trough with backing lower tropospheric flow. However, this flow, crossing mountains on its way, will yield capped and dry airmass in the lower troposphere, inhibiting any DMC. Conditions will becomore more favorable as lower tropospheric flow veers to SW-ly direction with marginal CAPE values. Scattered DMC will develop ahead and along the advancing cold front. While strong shear is forecast also in this zone, hodographs will be rather straight. As DLS exceeds 20 m/s, a few rotating cells may develop, capable of severe wind gusts. Tornadoes do not seem too likely given linear hodograph, but a local augmentation in lower tropospheric shear, along with low LCLs may support a tornado or two.