Storm Forecast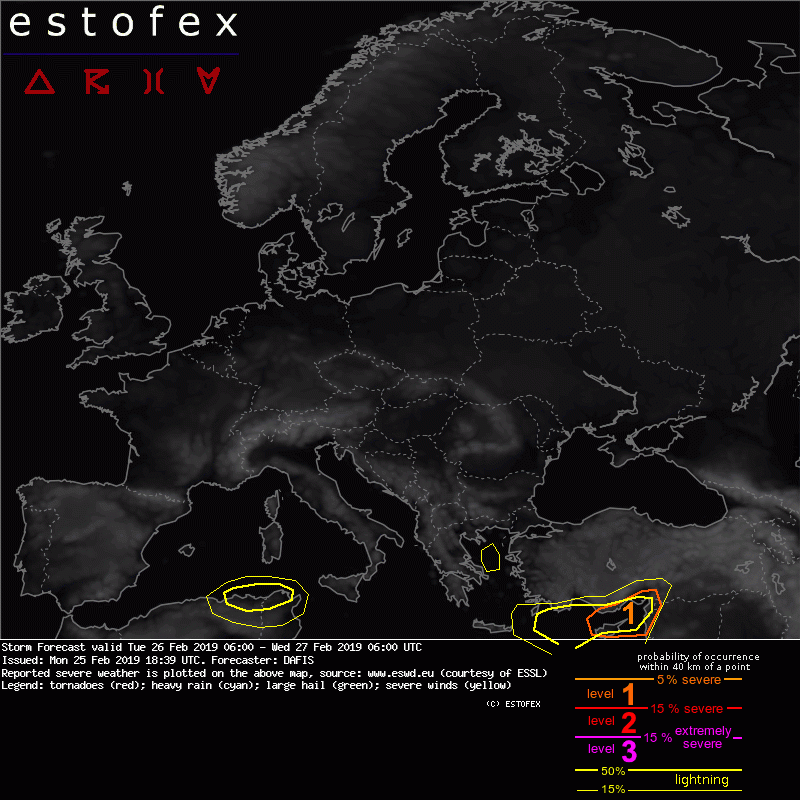 Storm Forecast
Valid: Tue 26 Feb 2019 06:00 to Wed 27 Feb 2019 06:00 UTC
Issued: Mon 25 Feb 2019 18:39
Forecaster: DAFIS
A level 1 is issued for the coasts of S Turkey, Cyprus and Syria mainly for large hail or large accumulations of small hail, severe wind gusts, and tornadoes.

SYNOPSIS

The strong ridge in W Europe that brought unseasonably warm air masses, even to the Arctic, is gradually weakening. Lots of action takes places to the east side of the ridge, where cold air masses have found a way south over the Mediterranean, destabilizing the area. On Tuesday 26/02 a cut-off low will cross Sicily and Tunisia, where a few fast-moving storms may develop in a strongly sheared environment, where also some waterspouts are not ruled out. Another short-wave trough is moving from Ukraine towards S Balkans but the PBL is too dry to initiate any convective cell, and even in the Aegean Sea storms will be limited to a few weakly electrified updrafts. Better chances for DMC can be found over the far eastern Mediterranean, where a short-wave trough brings all the necessary ingredients for severe weather.

DISCUSSION

.... S Turkey, Cyprus and Syria ....

The strong southwesterly flow will bring unstable air masses with high PWAT values. MLCAPE is calculated between 500 - 1000 J/kg, DLS is expected to exceed 25 m/s and 15 m/s 0-3km shear suggest that storms will be able to cluster and last for some hours, producing locally large hail and severe wind gusts. The strong storm motion vectors show a low threat for excessive rainfall, but local convergence zones may lead to local flash floods and high amounts of small hail. Strong low-level veering winds between Turkey, Cyprus and Syria may create a mesocyclone, with a tornado threat. The strong 0-1km shear limits the threat for waterspouts until the early morning of Wednesday when winds become weaker and low-level instability is increased, so some waterspouts may appear near coasts.