Storm Forecast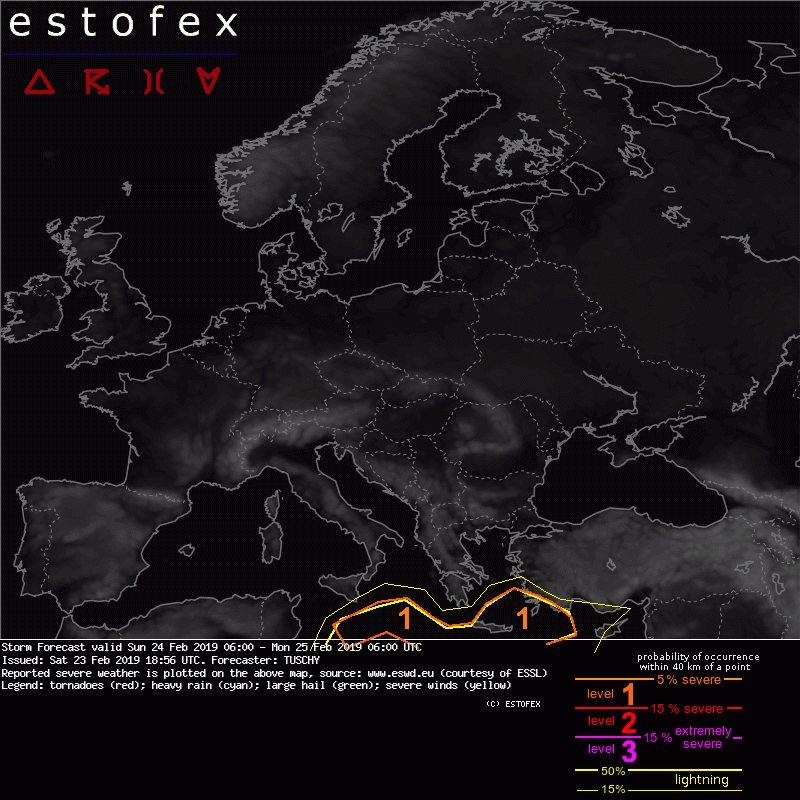 Storm Forecast
Valid: Sun 24 Feb 2019 06:00 to Mon 25 Feb 2019 06:00 UTC
Issued: Sat 23 Feb 2019 18:56
Forecaster: TUSCHY
A level 1 was issued between Malta and Cyprus mainly for excessive rain and an isolated tornado threat.

SYNOPSIS

The blocking pattern continues as a positive 2.5 sigma anticyclone expands over W/CNTRL Europe (peak anomalies over the S North Sea). This ridge is fostered by numerous intense cyclones over the NE Atlantic, as seen by elongated irrotational wind vectors pointing towards the ridge. Only temporal weakening of the ridge is expected over far N Europe due to the passage of a sharp upper trough (flattening the ridge somewhat). A broad upper trough flanks the eastern part of that ridge and affects most of E/SE Europe. An embedded deep vortex SE of Malta drifts SE and E during the forecast and assists in the development of a broad LL vortex over far N Libya, which interacts with a plume of moderately moist low-tropospheric air (LL mixing ratios around 6 g/kg). Hence the main focus for thunderstorm activity exists in this region. Elsewhere too dry air precludes probs for DMC activity.


DISCUSSION

... Between Malta and Cyprus ....

LL confluent flow regime north of the LL vortex persists through the forecast. Repeated shower/thunderstorm development is expected although meager mid-level lapse rates / CAPE lower confidence in anything more widespread severe. Heavy/excessive rain accompanies that activity, which also affects Malta. A gradual southward shift of the main activity is forecast during the day in response to the departing vortex.

The same for Cyprus and the S Aegean Sea, where persistent bands of showers and thunderstorms occur all day long. Forecast soundings show elongated/curved lower parts, which point to potential temporal training and an isolated tornado threat. Main limiting factor for a more organized threat will be the still diffuse/gradually structuring LL vortex to the south and hence a weak ageostrophic response until 06Z but also the southward displaced plume of more unstable (~ 800 J/kg SBCAPE) air, which resides S of Cyprus. However flash flooding over Cyprus is a distinct possibility with uplsope flow/training combination.