Storm Forecast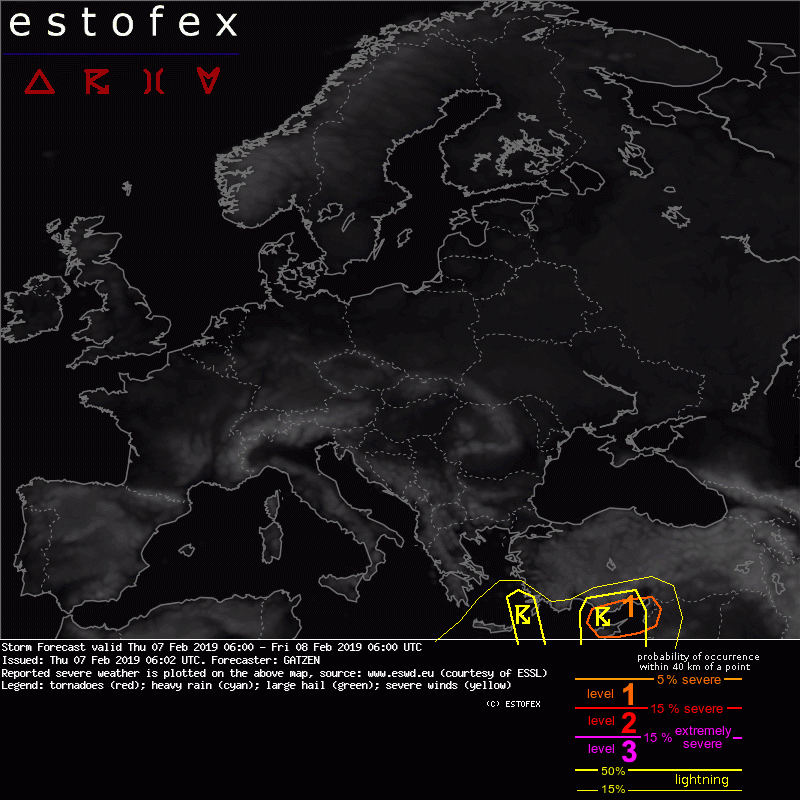 Storm Forecast
Valid: Thu 07 Feb 2019 06:00 to Fri 08 Feb 2019 06:00 UTC
Issued: Thu 07 Feb 2019 06:02
Forecaster: GATZEN
A level 1 was issued across Cyprus, south-eastern Turkey, and north-western Syria mainly for tornadoes.

SYNOPSIS

A trough moves eastwards across northern and Central Europe. To the south, a ridge axis extends from the Iberian Peninsula across the Alps to the Black Sea and weakens as a trough amplifies into the north Mediterranean. A cut-off low over the Aegean will only slowly move north-eastwards. At lower levels, a moist and slightly unstable air mass is present near the center of the Aegean cut-off. This air mass will overlap with some low-level vertical wind shear over the east Mediterranean on Thursday.

DISCUSSION

Cyprus and east Mediterranean

Latest models indicate some low-end instability across the east Mediterranean. Wind shear is weak over most places, however, some stronger wind shear of 15 m/s in the lowest 3 km can be expected from Cyprus to Turkey and Syria. Forecast hodographs with curved low-level hodographs indicate some potential of rotating storms late in the period. If mesocyclones form, tornadoes are not ruled out. Main limiting factor is weak instability and also limited low-level vertical wind shear. Farther west, waterspouts are not ruled out in a slightly unstable air mass with weak vertical wind shear across the south Aegean Sea region.