Storm Forecast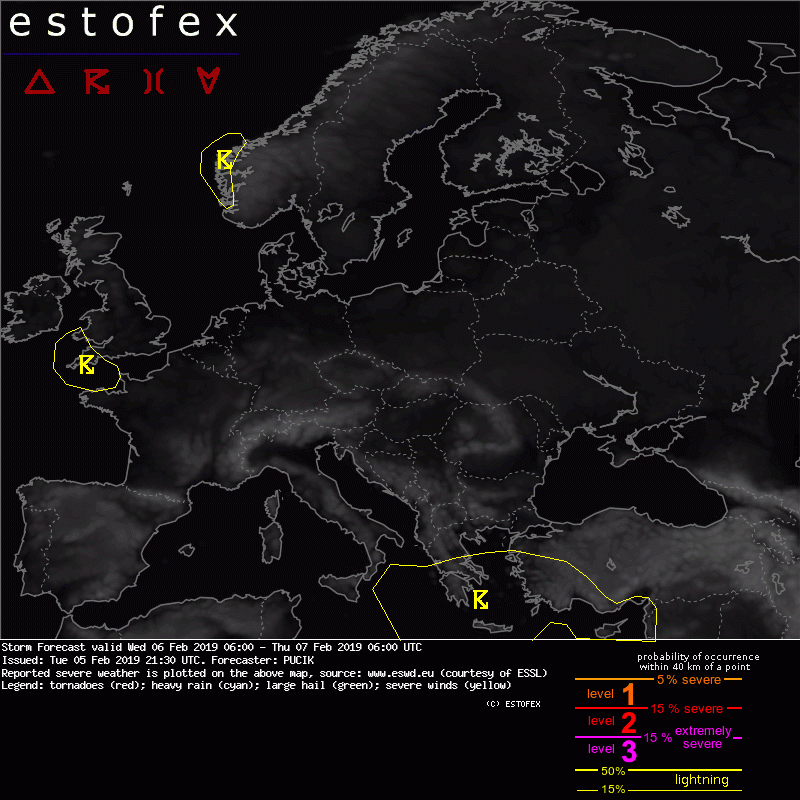 Storm Forecast
Valid: Wed 06 Feb 2019 06:00 to Thu 07 Feb 2019 06:00 UTC
Issued: Tue 05 Feb 2019 21:30
Forecaster: PUCIK
No threat levels have been issued.

SYNOPSIS and DISCUSSION

A deep cyclonic vortex residing over the SE Mediterranean will continue as a focus for thunderstorm development during much of the forecast period. Much of continental Europe will remain under relatively dry and stable conditions, while more active weather pattern is forecast over W and NW Europe, on the forward flank of the trough over the Atlantic. Weakly electrified DMC will be possible forecast across two areas, SW UK and W Norway, in conjunction with the passage of short-wave troughs, in the environment of marginal CAPE.

Isolated to scattered DMC is also forecast for parts of the Ionian and Aegean Sea, in the core of the low over the Mediterranean with steep mid-tropospheric lapse rates. A threat area was considered for region towards east, spanning Cyprus and S Turkey coastline, in the WAA regime ahead of the approaching cold front. However, forecast soundings reveal marginal, if any instability over most of the area and it seems that most of the precipitation will be stratiform, with isolated embedded cells. Despite the presence of strong vertical wind shear, coverage of severe convective storms will likely be too low to warrant a Lvl 1.