Storm Forecast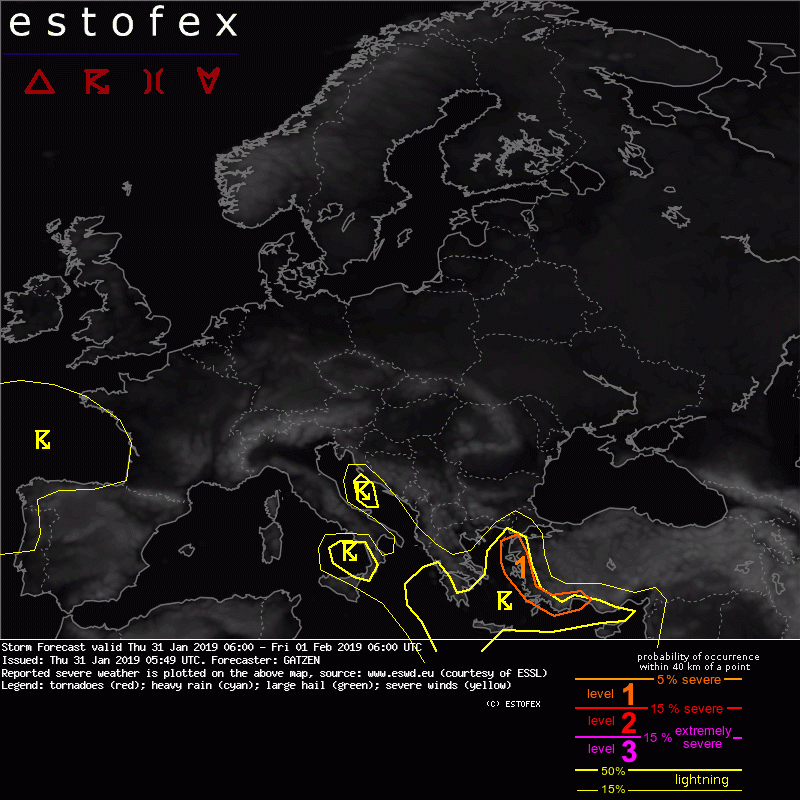 Storm Forecast
Valid: Thu 31 Jan 2019 06:00 to Fri 01 Feb 2019 06:00 UTC
Issued: Thu 31 Jan 2019 05:49
Forecaster: GATZEN
A level 1 was issued across south-western Turkey for excessive rain and to a lesser extent tornadoes and severe wind gusts and large hail.

SYNOPSIS

Downstream of the Azores high the mid-level flow forms a long-wave trough across Europe, with a major axis from the North Sea to Italy. This trough axis lifts on Thursday, crossing the Balkans and Aegean region. It its wake, another polar trough enters western Europe, and a ridge forms in between that moves over the Mediterranean. At lower levels, rich moisture can be found across south-western Europe ahead of the amplifying polar trough, but lapse rates are stable. Some modest moisture overlaps with slightly unstable lapse rates ahead of the trough axis across the Aegean Sea, where thunderstorms are forecast.

DISCUSSION

Aegean region, southern Turkey

The trough axis crosses the area in the morning and noon. Lift is expected and low-level lapse rates will improve. Ahead of a cold front, low-level moisture will be sufficient for 500 J/kg CAPE. Thunderstorms have formed across Greece and the Ionian Sea and will spread eastward in the next hours, affecting the Aegean and later also the southern coasts of Turkey. With 15 m/s wind speed at 850 hPa, hodographs can become longer near the coasts, where storms may organize, and brief supercells are not ruled out, capable of producing a tornado or excessive precipitation. Additionally, marginally severe hail and severe wind gusts are not ruled out.