Storm Forecast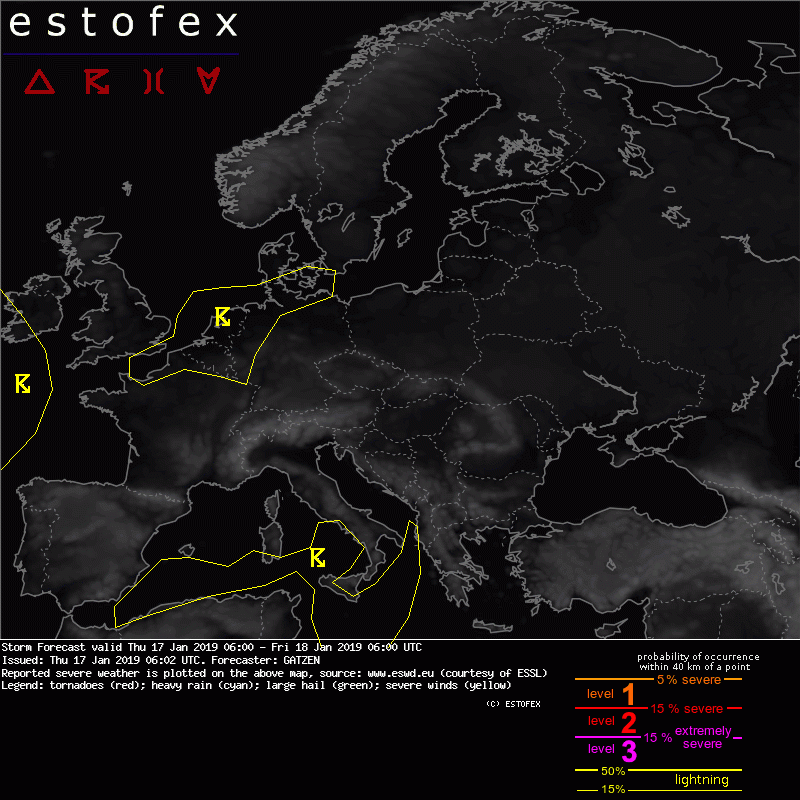 Storm Forecast
Valid: Thu 17 Jan 2019 06:00 to Fri 18 Jan 2019 06:00 UTC
Issued: Thu 17 Jan 2019 06:02
Forecaster: GATZEN
A threat level has not been issued.

DISCUSSION

A polar trough amplifies across western and central Europe. Its ill-defined southern parts cross the west Mediterranean. Downstream, a ridge progresses eastward over the Balkans. Given weak low-level moisture of less than 5 g/kg over most of Europe, chances of thunderstorms are low over the continent. An exception is the North Sea region where the polar trough is associated with neutral or slightly unstable lapse rates supportive for weak storms that may move onshore over the Benelux countries and north-western Germany.

The Mediterranean is influenced by better low-level moisture but limited lapse rates due to a sinking inversion in the range of the mid-level ridge. Lapse rates improve with the approaching trough, but will be only about the moist adiabatic lapse rate over most placed, allowing for just weak CAPE. Since vertical wind shear is weak, severe thunderstorms are not expected. Main severe potential is that of heavy rain due to slow moving storms in association with skinny CAPE profiles, but potential is too low for a risk level.