Storm Forecast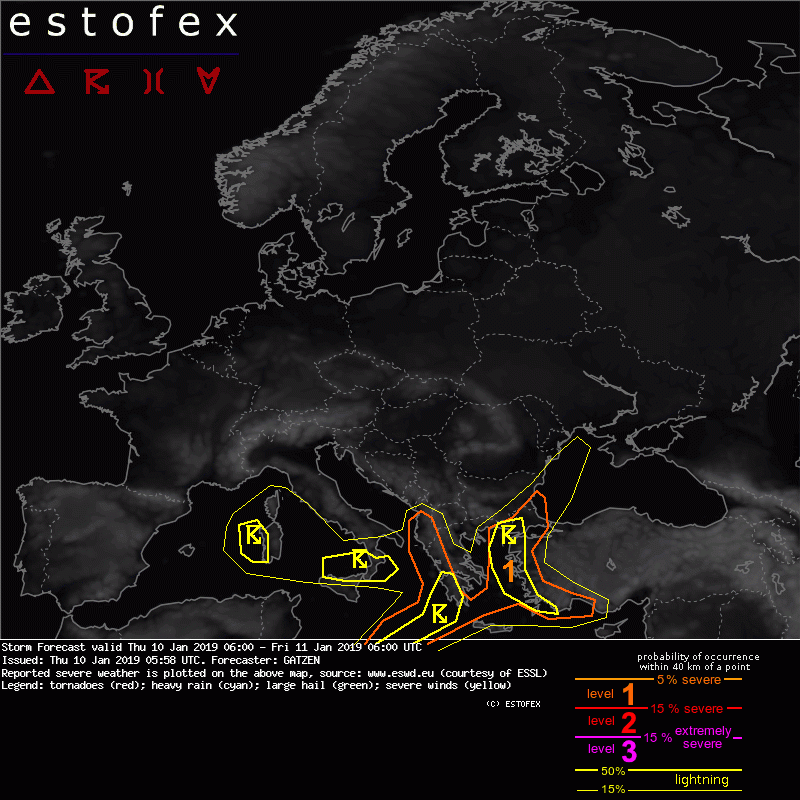 Storm Forecast
Valid: Thu 10 Jan 2019 06:00 to Fri 11 Jan 2019 06:00 UTC
Issued: Thu 10 Jan 2019 05:58
Forecaster: GATZEN
A level 1 is issued for the Aegean Sea region mainly for excessive rain and to a lesser extent tornadoes, severe wind gusts, and large hail.

SYNOPSIS

High geopotential continues west of Europe and ridges into the Baltic Sea region on Thursday. The ridge is flanked by an intense trough that extends towards the south-west Mediterranean. A strong mid-level jet overspreads the south and east Mediterranean, associated with an embedded jet streak moving from Sicily across Greece towards the west Black Sea. Another intense polar trough enters Scandinavia late in the period. At low levels, cold air masses affect most of Europe including the west and central Mediterranean. Better moisture can be found over north-western Europe and especially ahead of the cold front across the east Mediterranean and Aegean region. Steep lapse rates are present within the Mediterranean trough that extend towards the Aegean region during the period, where they overlap with substantial moisture.

DISCUSSION

Aegean region

With strong low-level flow, a moist maritime air mass is advected into the Aegean region and farther into the western Black Sea. This moisture will overlap with increasing low-level lapse rates ahead of an approaching short-wave trough. MLCAPE can reach several hundreds J/kg at noon, whereas CIN will be marginal. Storms are forecast in particular where upslope flow is present. Forecast soundings indicate deep moisture and skinny CAPE profiles, promoting an excessive precipitation threat. This is also supported by forecast hodographs with strong low-level flow parallel to the approaching cold front, supporting back-building storms. Given strong vertical wind shear, some storms may also produce marginal large hail, severe wind gusts, and tornadoes. Severe threat is expected to weaken in the evening as the trough lifts into the Black Sea where CAPE will be marginal.