Storm Forecast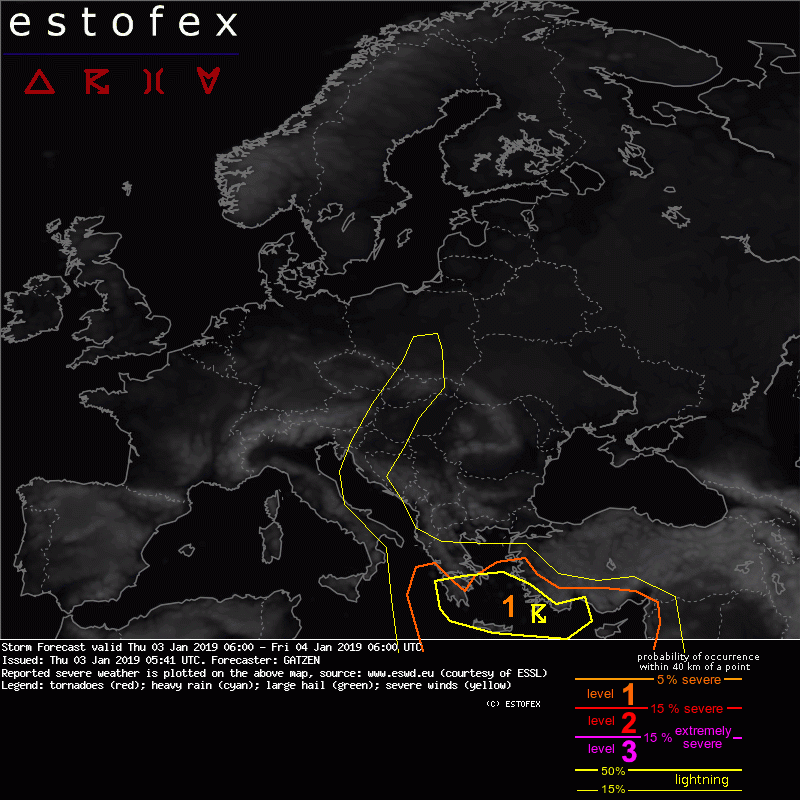 Storm Forecast
Valid: Thu 03 Jan 2019 06:00 to Fri 04 Jan 2019 06:00 UTC
Issued: Thu 03 Jan 2019 05:41
Forecaster: GATZEN
A level 1 was issued across the southern Ioian Sea, Aegean Sea, and east Mediterranean area for excessive rain, tornadoes, and severe wind gusts.

DISCUSSION

SYNOPSIS

Europe is affected by an amplified west-European ridge and a downstream trough that extends into the central Mediterranean. An intense vort-max curves around the base of this trough and moves across the south Ionian Sea towards the Aegean on Thursday. It is associated with a zone of steep lapse rates that overlaps with enhanced Mediterranean moisture with low-level mixing ratios around 8 g/kg. Another vort-max follows from Poland and spreads across Slovakia and Hungary into the northern Balkans. Although low-level moisture will be very limited, some low-topped storms are likely to form as well.

DISCUSSION

Southern Ionian Sea and Italy towards Greece, Aegean Sea, and south-western Turkey

A rapidly travelling upper vort-max affects the area with strong QG forcing at the cyclonically sheared flank of a mid-level jet streak. Cyclogenesis is expected to result in a deepening low pressure system that will bring stormy winds to the Aegean Sea and southern Turkey. At the same time, a moist low-level air mass spreads north-east ahead of a cold front. This moisture overlaps with steepening lapse rates downstream of the approaching vort-max. Resulting weakly-capped MLCAPE will be around 500 J/kg. Long hodographs that are slightly curved in the lowest kilometres will support well-organized storms. However, a laerge angle between the hodograph and the cold front will likely result in numerous lines of individual storms rather than a well-developed narrow cold-frontal rain band. Multicells and mesocyclones are forecast to produce severe wind gusts, marginally large hail, and perhaps a few tornadoes close to the shores where low-level vertical wind shear is strong. Additionally, excessive, partly stratiform precipitation is likely along the coasts of Greece and Turkey, causing local flash floods. Convective activity is forecast to spread east rapidly during the afternoon.