Storm Forecast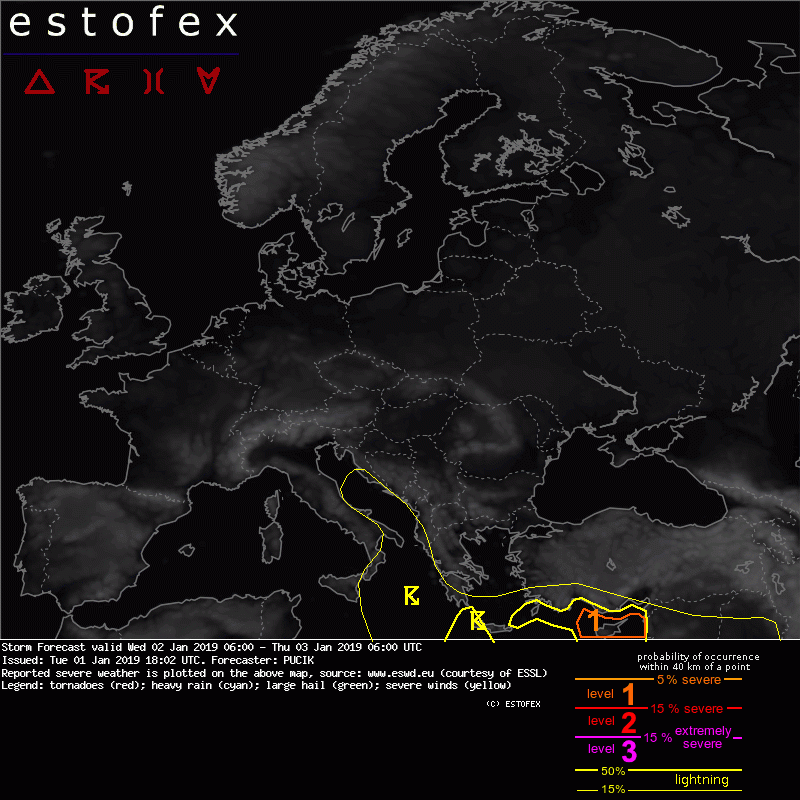 Storm Forecast
Valid: Wed 02 Jan 2019 06:00 to Thu 03 Jan 2019 06:00 UTC
Issued: Tue 01 Jan 2019 18:02
Forecaster: PUCIK
A level 1 was issued for extreme E Mediterranean mainly for excessive precipitation.

SYNOPSIS and DISCUSSION

A highly amplified flow pattern has established over Europe with a large ridge stretching from Iberia towards the British Isles. A deep short-wave trough will quickly translate from Central Europe towards Greece during the forecast period, accompanied by another intrusion of the maritime arctic airmass over much of Central and Eastern Europe. Another trough will reside over the SE Mediterranean.

Isolated to scattered DMC is forecast over parts of the Mediterranean, where steep mid-tropospheric lapse rates allow for marginal CAPE values. A level 1 is issued for Cyprus and surrounding seas for a threat of an isolated excessive rainfall event in an environment with skinny CAPE and low LCLs.