Storm Forecast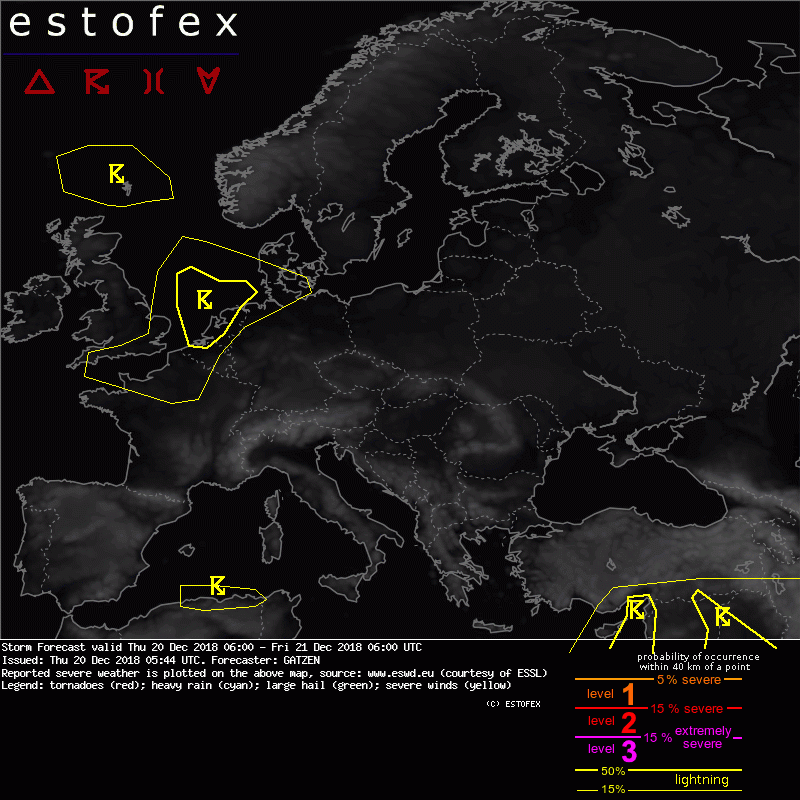 Storm Forecast
Valid: Thu 20 Dec 2018 06:00 to Fri 21 Dec 2018 06:00 UTC
Issued: Thu 20 Dec 2018 05:44
Forecaster: GATZEN
SYNOPSIS

Initially, a deep trough affects the east Mediterranean, moving east during the period. A west-European trough is pushed east downstream of an intense zonal jet stream approaching from the Atlantic, and mid-level frontogenesis causes a well-developed PV intrusion at it western flank that rapidly moves over the North Sea and Germany. Steep lapse rates are present within the trough and will increase at the cyclonically sheared flank of the PV intrusion. Low-level moisture is limited and maximized across the North Sea, where it overlaps with the lapse rates. Other regions will not see good lapse rates like most of the Mediterranean, or will have only marginal moisture like the Balkans. Therefore, potential for severe thunderstorms is expected to be low.

DISCUSSION

East Mediterranean

Some storms are forecast in the first half of today as the base of the trough passes. Vertical wind shear is forecast to be weak, and CAPE will be also limited with about 500 J/kg. Locally, there can be a stronger downdraft capable of excessive rain of marginal severe gusts.

North Sea into Benelux and NW Germany

Showers are expected to become more intense in the afternoon and evening, when also thunderstorms are forecast. Main activity will be offshore, but some storms are also likely over the land. These may organize given strong low-level vertical wind shear. Main threat is severe wind gusts due to mesovortices in strong background flow exceeding 20 m/s at 850 hPa. Activity will weaken during the night as the PV intrusion spreads over dry air across Central Europe.