Storm Forecast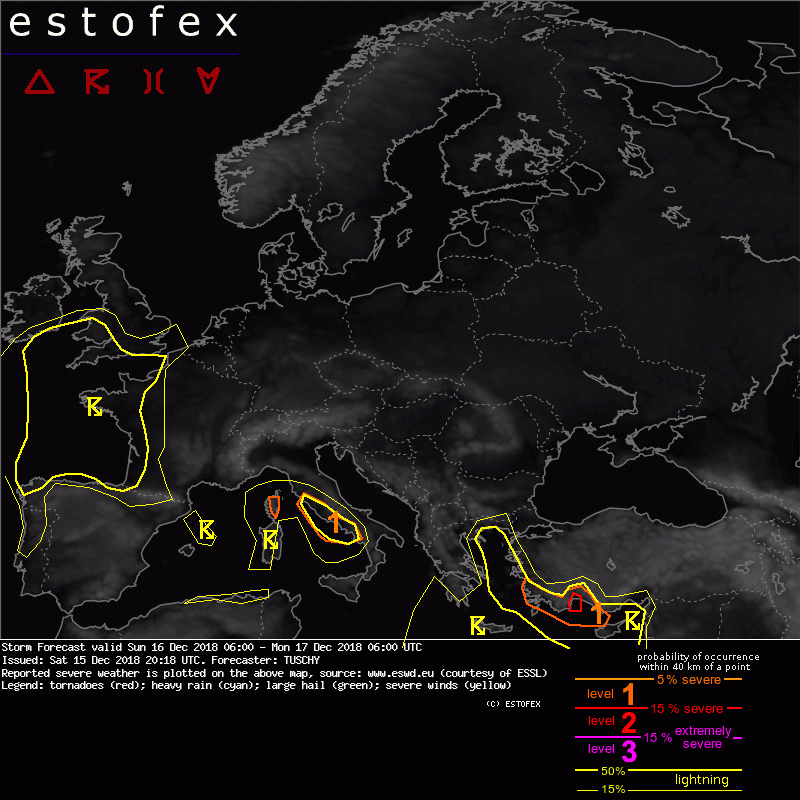 Storm Forecast
Valid: Sun 16 Dec 2018 06:00 to Mon 17 Dec 2018 06:00 UTC
Issued: Sat 15 Dec 2018 20:18
Forecaster: TUSCHY
A level 2 was issued across parts of the Gulf of Antalya mainly for excessive rain and isolated tornadoes.

A level 1 surrounds that level 2 mainly for excessive rain.

A level 1 was issued for parts of W-CNTRL Italy mainly for isolated severe wind gusts and a low-end tornado risk.

A level 1 was issued for W Corse mainly for locally excessive rain.


SYNOPSIS

A far south displaced frontal zone (due to positive geopotential height anomalies over Scandinavia) affects the Mediterranean. A wavy pattern features a flattening and eastward moving ridge over far SW Europe and an eastbound moving upper trough over far SE Europe.

Further north, most areas see dry, cold and stable conditions despite W-Europe, where a moist Atlantic airmass spreads east towards CNTRL Europe beneath cold mid-levels. This results in a broad area with modest BL moisture and steepening mid-level lapse rates. Therefore an extensive area with marginal and mainly offshore SBCAPE is predicted. Not much synoptic-scale frontal forcing is forecast in this environment as occluding fronts traverse this area east.

An evolving wave with attendant cold/warm front crosses the far NW Mediterranean during the night and approaches CNTRL Italy as a consolidating LL depression.

DISCUSSION

... E Mediterranean including the Gulf of Antalya ...

The vertically stacked trough continues its track to the east and affects the E Mediterranean. A diffuse LL depression scratches the SW coast of Turkey and results in backing winds S of Turkey. Some channeling of the BL flow is anticipated between S Turkey and Cyprus with moderate easterly winds pointing into the Gulf of Antalya. Due to the slow motion of the pressure features a prolonged period of onshore flow is forecast along the S coast of Turkey with the main focus along the W Gulf of Antalya. 400-800 J/kg MLCAPE, a moist inflow and a persistent low-tropospheric confluent flow regime into the Gulf of Antlaya result in repeatedly onshore moving and temporarily training convection with excessive rainfall. Enhanced LL flow and strong veering with gradually lowering LCLs also add an isolated tornado risk with tail-end storms or more discrete activity along a pronounced BL speed/directional shear zone. This area was upgraded to a level 2 with the rest of the coastal areas highlighted by a level 1.

... W/SW UK, the Bay of Biscay and far W-France ...

A passing mid-level wave should add enough forcing for more vigorous convection in a weak shear/low CAPE setup especially during the daytime hours (probably organized in broken lines). Graupel, isolated hail and gusty winds will be the main hazard. Coastal regions see a gradually thinning/mixed out marine layer and hence better LLCAPE. Combined with frictional convergence and modest diurnal heating, conditions for a few funnels/isolated short-lived tornadoes is non-zero. The overall risk is too marginal for any level area.

... W-CNTRL Mediterranean ...

The consolidating wave and attendant warm sector impact Corse, Sardegna and the Tyrrhenian Sea during the night. The cold front could become more active during this time period due to the favorable placement beneath the exit region of a strong upper jet and due to the interaction with increasingly moist air to the S/E. Strong forcing could help to push a line of forced convection E/SE with severe wind gusts the main hazard. Disrupted by the islands, the main chance for linear organization seems to be along the E coast of the Tyrrhenian Sea and just onshore. This area was upgraded to a level 1 for severe wind gusts and a low-end tornado threat. A small level 1 was issued along the W facing coasts of Corse due to excessive rain.