Storm Forecast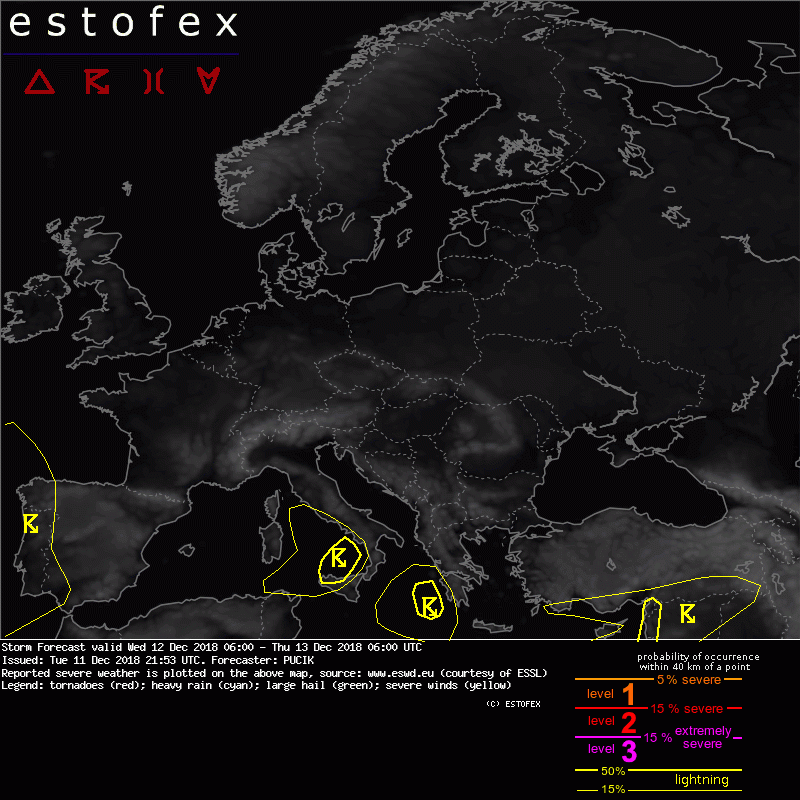 Storm Forecast
Valid: Wed 12 Dec 2018 06:00 to Thu 13 Dec 2018 06:00 UTC
Issued: Tue 11 Dec 2018 21:53
Forecaster: PUCIK
No threat levels have been issued.

SYNOPSIS and DISCUSSION

An extensive high pressure system centered over Scandinavia will continue advecting dry and cold airmass from NW Russia over much of Eastern, South-Eastern and Central Europe. Presence of the high confines strong zonal flow to the southern part of the forecast domain, over the Mediterranean, where more active weather pattern is forecast south of the center of the mid to upper tropospheric low residing over the Czech Republic and the Black Sea. A short-wave trough will cross Corsica, Sardegna into the Tyrrhenian Sea in the evening and overnight hours. Another short-wave will cross extreme E Mediterranean and will eject towards the Middle-East. To the west, a deep trough will approach Iberia from the Atlantic. A tongue of moister airmass ahead of the cold front will result in marginal buoyancy.

While several areas over the southern part of the forecast domain may experience isolated to scattered thunderstorms, severe weather threat will be relatively low.