Storm Forecast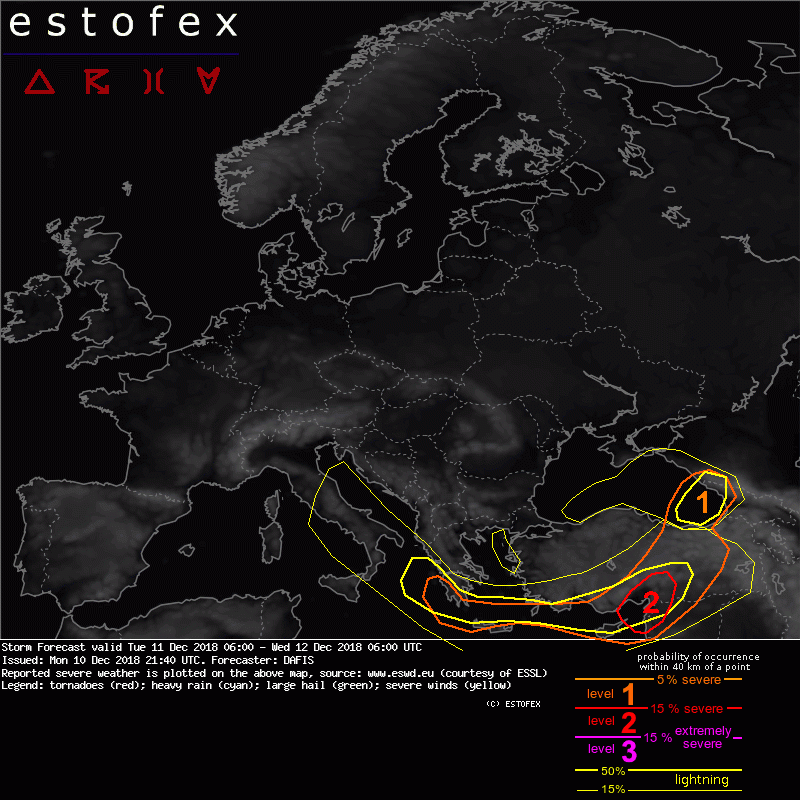 Storm Forecast
Valid: Tue 11 Dec 2018 06:00 to Wed 12 Dec 2018 06:00 UTC
Issued: Mon 10 Dec 2018 21:40
Forecaster: DAFIS
A level 2 was issued for parts of SE Turkey, Lebanon and Syria for excessive rainfall, severe wind gusts, large hail, and tornadoes.

A level 1 was issued for parts of S Greece, Turkey, Syria, Lebanon, and Georgia mainly for severe convective wind gusts and to a lesser extent for excessive precipitation and tornadoes.

SYNOPSIS

A very active pattern has been established over Europe with a polar air-mass spreading through a long-wave trough which extends from Scandinavia towards Italy and Greece. Under this trough, steep lapse rates create marginal instability over C Europe and some thunder-snow events are expected tonight Monday 10/12.

Over the much warmer Mediterranean, instability is much stronger along with a jet-stream which is wrapped around the leading edge of the trough, creating a favorable environment for long-lasting and organized thunderstorms. Embedded in this circulation, a cyclone over Turkey is expected to intensify over the Black Sea on Tuesday 11/12 and its cold front may lead to severe storms where level 1 and 2 areas are indicated. On the other hand, a developing ridge in W Europe brings warm air-masses up to the Arctic Cycle while another trough is approaching from the Atlantic.

DISCUSSION

.... Turkey, Lebanon, Syria, Greece, and Georgia ....

The SE edge of the long-wave trough has established a persistent SW-rly flow over East Mediterranean and the Middle East. Moist low-level air masses are expected to converge roughly where the level-2 area has been drawn, with CAPE exceeding 600 J/kg, overlapping with very strong deep and mid-layer vertical wind shear. Storms that will develop east of Cyprus will be able to organize into clusters and create large hail, severe wind gusts, and even tornadoes. Synoptic lift and a cold front crossing now Turkey will guarantee the CI by the early morning of Tuesday, and activity should not dissipate before the late morning of Wednesday.

In South Greece, the conditions seem less favorable for organized convection due to meager instability but the strong wind field shows a high probability that individual cells could bring severe convective wind gusts with/without small hail/graupel. Strong LLS and mid/low-level entrainment should limit the probability of waterspouts.

In the coasts of Georgia, NWP models forecast high instability along with veering winds which create some helicity. Strong updrafts may take advantage of this environment and become severe, producing excessive rainfall and severe wind gusts. Tornadic events are also not ruled out.