Storm Forecast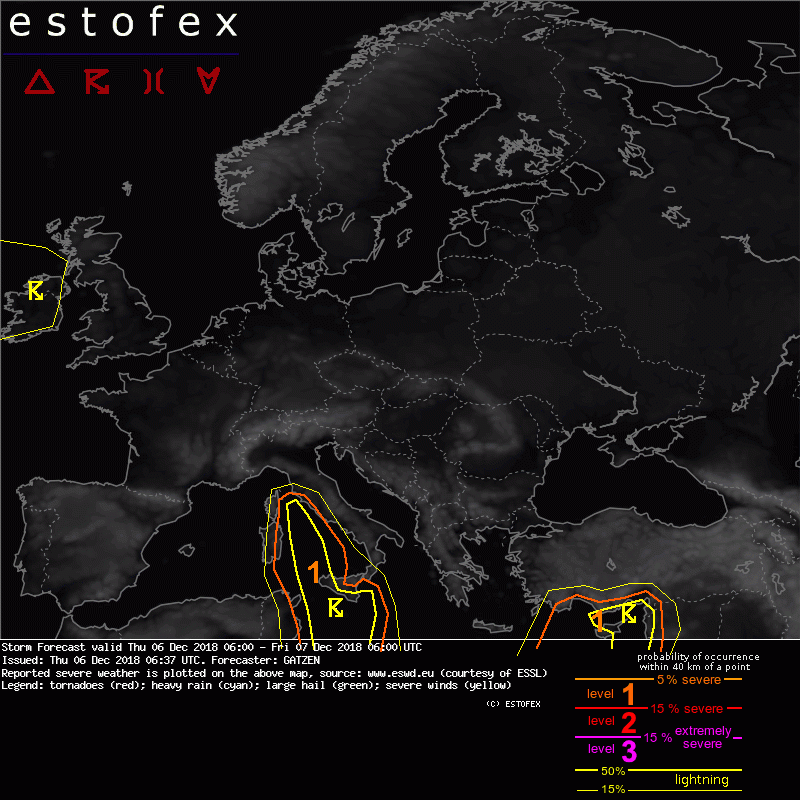 Storm Forecast
Valid: Thu 06 Dec 2018 06:00 to Fri 07 Dec 2018 06:00 UTC
Issued: Thu 06 Dec 2018 06:37
Forecaster: GATZEN
A level 1 was issued across the east Mediterranean and Cyprus for extreme rainfall and tornadoes.

A level 1 was issued across the Tyrrhenian Sea, Corsica, Sardinia, Sicily and south Mediterranean for extreme rainfall and to a lesser extend tornadoes.

SYNOPSIS

The delta of an intensifying zonal jet stream is situated across Central Europe, whereas low geopotential affects eastern Europe. Downstream of an approaching jet streak over the Atlantic, a short-wave trough cuts off and digs into the central Mediterranean. At low levels, rich moisture is currently present across the west Mediterranean Sea and also over the east Mediterranean Sea. Both regions will be affected by amplifying troughs and steep lapse rates are expected. In other regions, thunderstorms are quite unlikely given dry air over the east and stable lapse rates over the western portions.

DISCUSSION

East Mediterranean and Cyprus

Within the amplifying trough, CAPE up to 1000 J/kg builds across the east Mediterranean Sea in a relatively cool but moist air mass. Given strong QG forcing, clusters of storms are forecast that will move rather slowly given weak flow, and the main threat will be excessive rain given skinny CAPE profiles and high precipitable water. However, tornadoes are not ruled out along the shores of Cyprus and southern Turkey due to the possibility of stronger low-level vertical wind shear.

Tyrrhenian Sea, Corsica, Sardinia, Sicily and south Mediterranean

Within the cut-off low, showers and thunderstorms will spread south-eastward. Vertical wind shear is limited and most storms will be rather weakly organized. However, a few stronger storms may form especially in the southern parts, where moisture is highest. Excessive rain and maybe a tornado are not ruled out.