Storm Forecast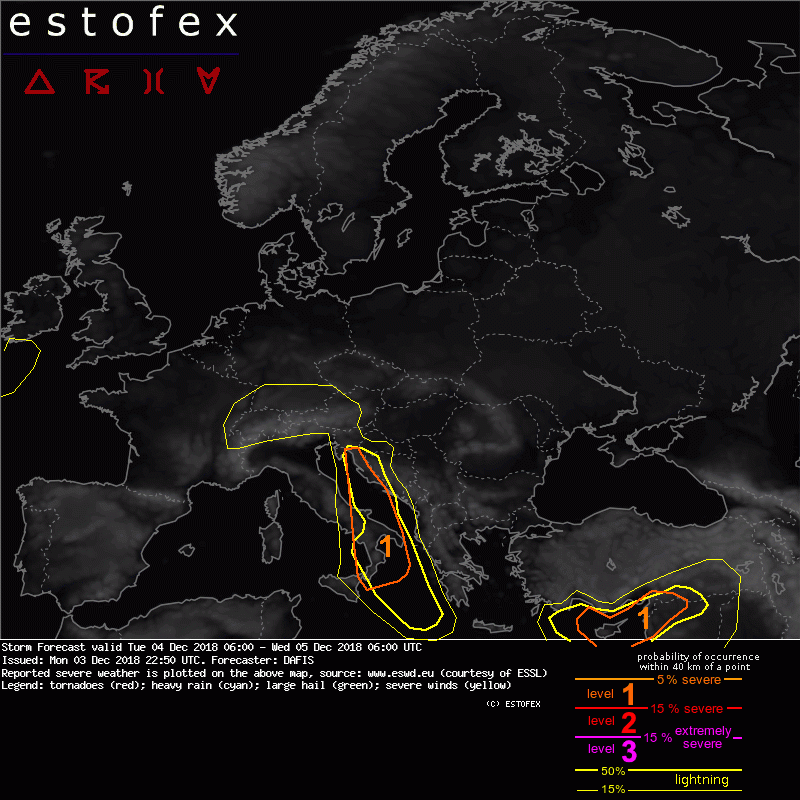 Storm Forecast
Valid: Tue 04 Dec 2018 06:00 to Wed 05 Dec 2018 06:00 UTC
Issued: Mon 03 Dec 2018 22:50
Forecaster: DAFIS
A level 1 was issued for parts of Italy and Croatia mainly for severe convective wind gusts and tornadoes.

A level 1 was issued for Cyprus, SE Turkey, Lebanon and Syria mainly for large hail, excessive rainfall, and severe convective wind gusts.

SYNOPSIS

A strong ridge has developed in W Europe and along with cold air masses in C and N Europe, a jet-streak is placed in between, resulting in damaging wind gusts in E France and NW slopes of the Alps. An embedded short-wave trough with a strong vorticity lobe is now crossing the Alps (Mon 3/12 21z) heading towards the Adriatic Sea. Strong QG-forcing, moist air masses of marine origin and steep lapse rates, under a strongly sheared environment have resulted in a convective line starting from W France, reaching the Switzerland - Italy borders a few hours ago, weakening rapidly on the steep mountain slopes.
These moist and warm air masses will be replaced by a polar air mass, as a trough is developing over the North Sea, towards C-E Europe. The Adriatic Sea is expected to be the host of convective phenomena, as steep lapse rates and abundant lift are forecast on Tuesday 04/12 and early morning of Wednesday 05/12.
In eastern parts of the Mediterranean, another active area of convective weather is found, as a shallow warm-core cyclone is forecast between Cyprus and Greece. Finally, in Middle East, unstable ais masses create a favorable environment for several storms, mainly non-severe.

DISCUSSION

.... Italy and Croatia ....

A short-wave trough is crossing N Adriatic Sea on Tuesday 04/12, providing lift to unstable air masses and steep low/mid-level lapse rates. The largest part of Italy will be under strong DLS, and storms developing near the N coasts of Italy and Croatia can easily translate the 15-20 m/s 850-hPa wind field near the surface, propagating south. Meager CAPE is forecast, so storms may not be able to live long and organize, taking advantage of the strongly sheared environment. Nevertheless, the strong LLS, low LCLs and a few hundreds of SCAPE may result in some waterspouts near the coasts.

.... Cyprus, Turkey, Lebanon and Syria ....

The shallow warm-core cyclone between Greece and Cyprus will be aligned vertically with the upper-level cold core, and unorganized convection along with weak baroclinicity suggest a weakening phase of the cyclone. Storms will develop around the center of the cyclone where MLCAPE should exceed 1000 J/kg within steep LL lapse rates, and a jet-streak at the eastern parts increase the probability of large hail formation and severe convective wind gusts. A few excessive precipitation events cannot also be ruled out from slow-moving storms.